THE NSW POLICE BAND
The NSW Police Band is Australia's oldest and longest continuously running concert band. Formed in 1895, in 2020 the band commemorates 125 years of dedicated service. Regarded as "The State Band of NSW" it is one of only two full-time police bands in existence in the country.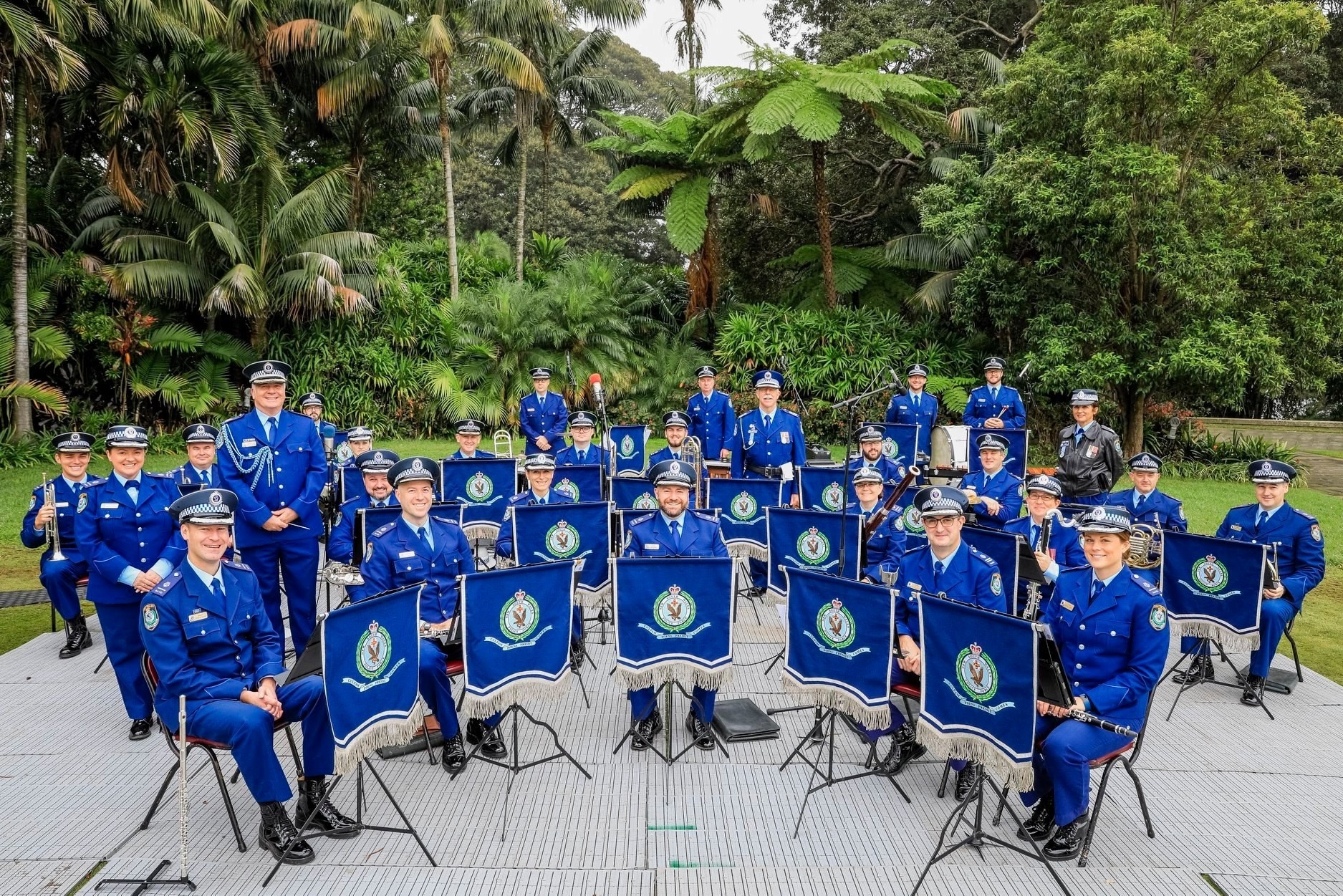 Co-ordinated by Senior Sergeant Graham Dickman and Director of Music John Saunders, this permanent, full-time unit of the NSW Police Force is comprised of thirty-three high-calibre, professional musicians that perform together as a Concert Band or Parade Band, according to the occasion. The NSW Police band provides high-profile public relations support to the NSW Police, to State and Federal Governments, and to communities of NSW, forging stronger links between the Police and the people of New South Wales.
Each year the NSW Police Band fulfills over 230 engagements, providing quality music for State Government, NSW Police, community, and charity events. The band also performs formal indoor concerts and recitals, at outdoor events and street parades, as well as concerts and workshops for students during school visits. The band has appeared at numerous prestigious ceremonies, including 'Ticker Tape' parades for Australian sporting teams and for Commonwealth and Olympic athletes, and has also performed for royalty, heads of state, prime ministers and presidents. The Parade Band functions as a marching band for ceremonial events throughout the year, including police graduations and award ceremonies, State Government protocol events, Anzac Day and Remembrance Day.
Boasting great musical diversity, the members of the NSW Police Band also perform in various smaller formations drawn from the full complement of the Concert Band. These versatile groups include the Big Band, Rock Band, Jazz Ensemble, Jazz Combo, the Dixieland or the Ragtime Combo, as well as the Lower Brass Quartet, and a number of Quintets including the Wind Quintet, the Clarinet Quintet, and the Brass Quintet. In addition to this, the band's highly skilled members often feature in duos and as soloists.
NSW POLICE BAND VOCALIST - BELINDA PARSONS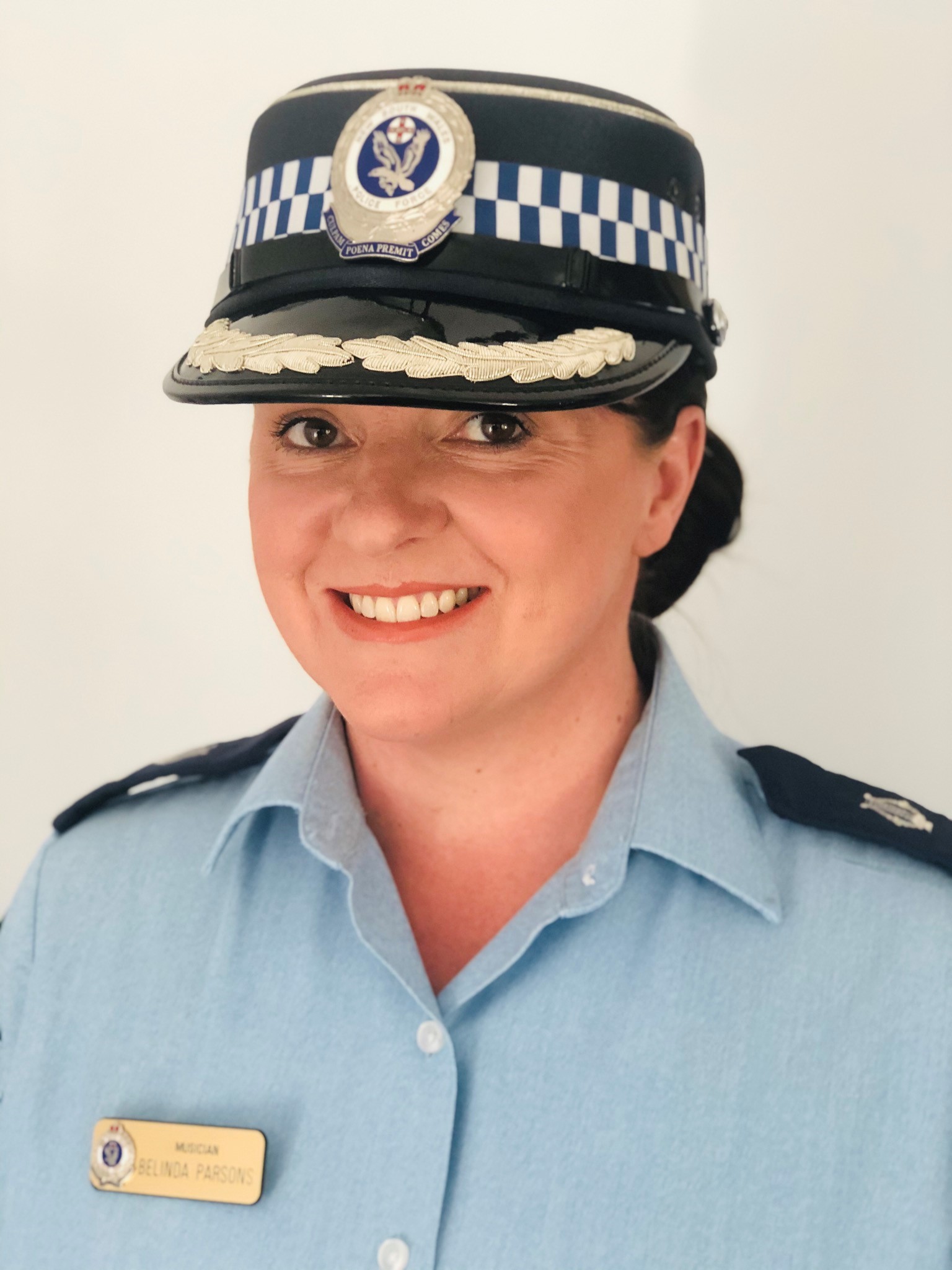 The NSW Police Band's vocalist Belinda Parsons is a captivating and dynamic performer. She has a warm and vibrant stage presence and possesses a truly incredible voice. Her voice is one that turns chairs - she turned all four in fact - In season two of "The Voice - Australia"!
Belinda has been a nominee and recipient of Female Vocalist of the Year for the Australian MO Awards and for Australian Club Entertainment Awards. She studied vocal training and technique with renowned singer/vocal coach Neil Williams OA for over a decade. After cutting her teeth working in the recording studio she took her talents to the stage, and has been wowing audiences throughout Australia and across the globe in live performances for over 20 years.
Belinda is a permanent member of the NSW Police Band and has been fronting the band as lead vocalist since 2011. Covering multiple musical genres, her many roles in the band include singing with the Rock Band, Jazz Combo, Big Band, and of course with the complete Concert Band outfit. On occasion you will also see Belinda helping out her fellow band members with an extra pair of hands in the percussion section of the Concert Band.
Throughout her career and in her performances with the NSW Police Band, Belinda has been invited to sing for small, intimate crowds, and for audiences of thousands, including performances for royalty, presidents and prime ministers. In her work with the NSW Police Band Belinda enjoys the challenges and the inspiration that she receives by having the chance to perform in a wide variety of musical styles. Her favourite part of the job however, is having the opportunity to bring smiles to so many peoples faces.
NSW POLICE BAND ENSEMBLES
The BIG BAND consists of eighteen highly skilled musicians performing traditional and modern jazz arrangements. This compelling ensemble focuses on showcasing the composition and arranging talents of current band members and selected Australian composers. With a full complement of saxophones, trombones, trumpets and a superb rhythm section, the band has been received with great enthusiasm for their performances at community concerts and social events, festivals and balls. The NSW Police Big Band features exquisite vocalist Belinda Parsons, as well as instrumental soloists of the highest quality.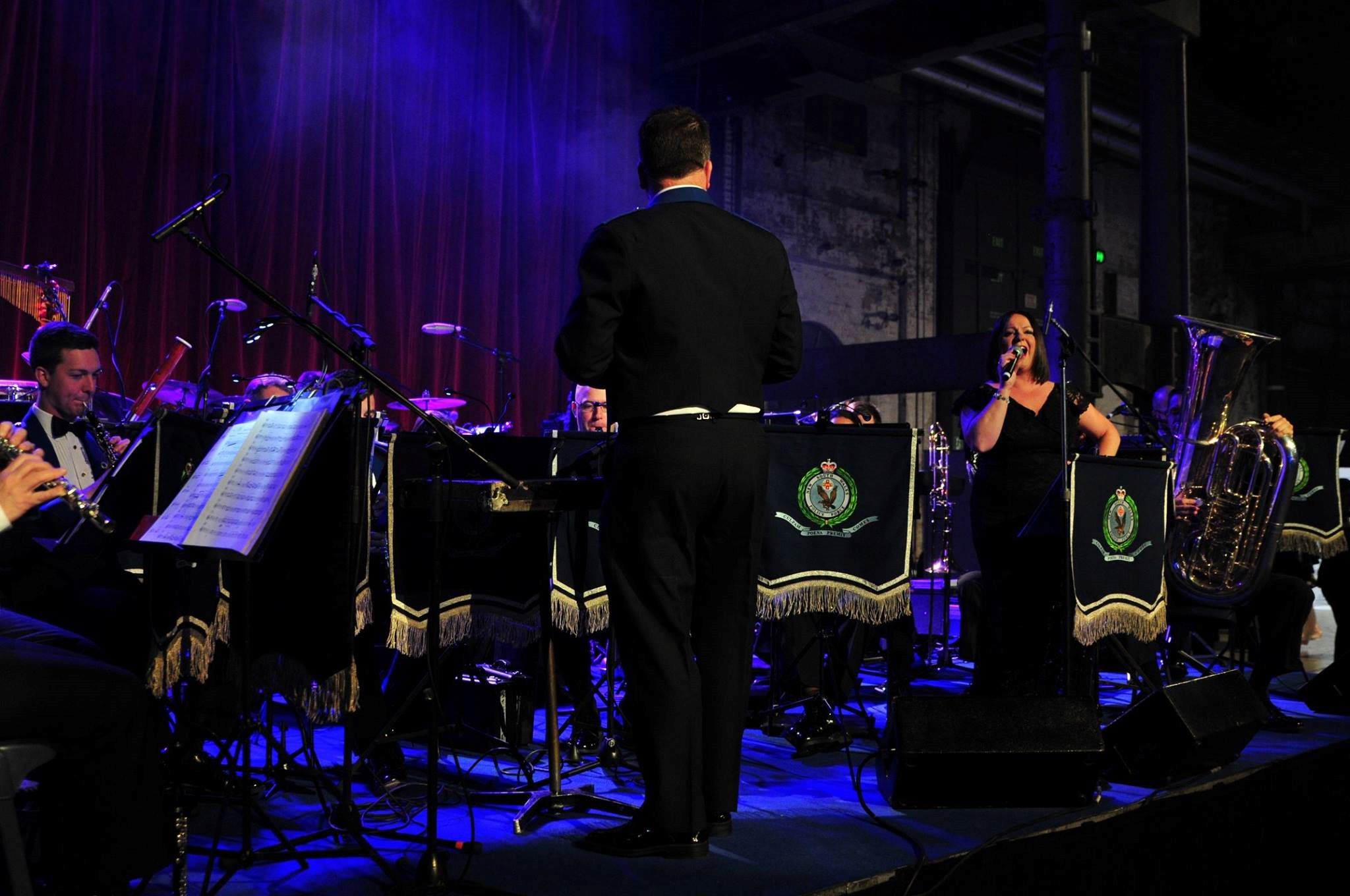 The BRASS QUINTET is a five-piece ensemble that provides brass to your brass! Catering to a wide variety of musical tastes with their varied repertoire, including Baroque, Classical, Broadway favourites or crowd-pleasing jazz standards, this small group will bring brilliance, pomp and pizazz to any occasion. Comprised of two trumpets, French Horn, trombone and tuba or bass trombone, the Brass Quintet has performed for royalty and governors, at police events and award ceremonies, for senior citizens, in community galas, featured concerts and for schools. The Brass Quintet is also well suited to outdoor occasions such as civic receptions and investitures, church and commemorative services and formal events.
The CLARINET QUINTET is a dynamic and versatile ensemble that features five members of the NSW Police Band's impressive clarinet section. This ensemble has an eclectic repertoire portfolio and plays in a wide variety of genres, including classical, latin, jazz, pop and contemporary tunes; sure to enhance and provide a touch of class to any event. Making regular appearances at state functions, dinners and award ceremonies, the quintet performs featured musical items as well as providing ambient background music.
The DIXIE COMBO plays authentic, traditional jazz from the 1920's to the 1940's. Comprising the trumpet, clarinet, trombone, piano or banjo, tuba, and drums, this is a bright and lively ensemble that is perfectly suited to outdoor events such as festivals, fetes, and community gatherings. A highlight at the Kiama Jazz Festival 2020, the Dixie Combo has been very popular since its inception in 2018 and regularly draws large, enthusiastic crowds at their performances.
The JAZZ COMBO features some of the country's finest practitioners of the genre. A small ensemble comprising vocals accompanied by a trio of piano, double bass, and drums, this group is sure to entertain any intimate setting. The group can also be made slightly larger with the added layer of another instrument, such as the trumpet or saxophone. Bringing you tasteful and professional quality performances that will add an appealing aural ambience to your event.
The JAZZ ENSEMBLE is a premiere jazz group that features six outstanding jazz musicians and boasts energetic instrumental arrangements. Driven by a frontline of trumpet, saxophone and trombone, the Jazz Ensemble plays arrangements from the extensive songbook of Art Blakey and the Jazz Messengers, as well as jazz standards refreshingly reimagined by some of Australia's finest arrangers. The group also features original repertoire penned by many of the band members themselves. One of the NSW Police Bands' newest and most exciting ensembles, the Jazz Ensemble made their debut performance at Government House for the Governor of NSW's monthly event: "Jazz At The House".
The LOW BRASS QUARTET is a small ensemble comprising four talented musicians in various combinations of the trombone, euphonium and tuba. The ensemble boasts musical flexibility with a regal tone and has a broad range of repertoire in a variety of musical styles. The quartet is suitable for background music in any small to medium-sized function, and are a delight to all lovers of low brass and of good music.
The RAGTIME COMBO is a light, easy listening ensemble that never fails to bring a smile to their listeners' faces. With its small footprint and user-friendly volume, this group is well suited to indoor performances. The ensemble performs acoustically with instrumentation of the flute/piccolo, clarinet, cornet, trombone, and piano. Their repertoire has been arranged specifically for the group, consisting of many delightful ragtime tunes, waltzes, marches, tangos, and more.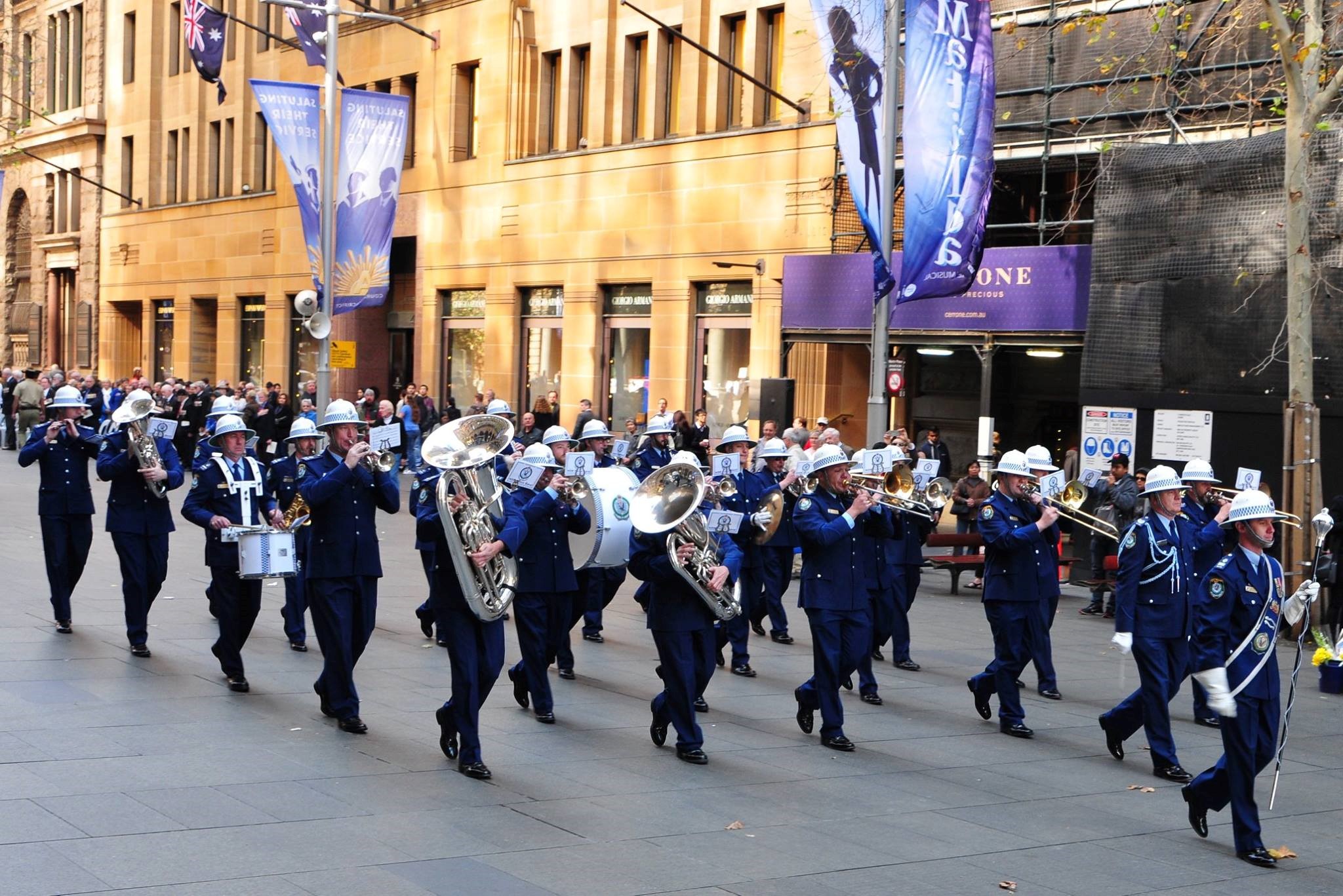 The ROCK BAND is an entertainment sensation featuring the stunning vocals of songstress Belinda Parsons. The Rock Band plays a wide array of music for the dance floor - from authentic Soul and R&B, to current hits and classic Australian rock. With a line up that includes a dynamic rhythm section, five horns, percussion and backing vocals, theirs is a sound to be experienced. The Rock Band appears annually at large community events such as City2Surf and Fair Day, and is frequently a highlight at NSW Police balls and numerous other functions throughout the state.
The SAXOPHONE QUARTET is a musically versatile ensemble that has the power to express the warmth and boldness of sound associated with a brass section, in combination with the refinement and delicacy of a string quartet. In addition to performing ceremonial works, their repertoire includes jazz, classical, popular and commercial themes from diverse styles and eras. The Saxophone Quartet is a perfect fit for concerts and awards ceremonies, performing featured musical items, or providing background music to cultivate a pleasant ambience. The group requires no amplification and performs equally well in indoor or outdoor settings.
The WIND QUINTET is an elegant ensemble that is very popular for quieter occasions and smaller events. Comprising five instrumentalists, the group features the diverse and well-matched tones of the flute, oboe, clarinet, bassoon and French horn. This ensemble enhances and adds sophistication to any prestigious function or ceremony with their high-calibre performances of classical chamber music.
BOOKINGS
The NSW Police Band welcomes enquiries regarding bookings of any of its ensembles.
Contact can be made directly to our Events Coordinator by Phone on (02) 9557 2090 or email band@police.nsw.gov.au
SOCIAL MEDIA
Follow the activities of the NSW Police Band and keep up to date with upcoming performances via their Facebook page