The NSW Police Force plays a vital role in responding to and providing support for victims of crime. From reporting crime, the initial police response, the investigation, victim support & referral, attending court, the return of property and more.
Customer service is a priority of the NSW Police Force and is what the community expects. Our customers have reasonable expectations of NSW Police, that is for NSW Police:
to be easy to engage
to act with empathy
to communicate; and
to be efficient
---
Important - further information relating to victims of: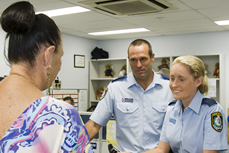 Report Crime and Missing Persons
Find out the options available for reporting crime and missing persons.
(Please do not report through Facebook or Twitter)
What happens after a crime is reported?
Where to get more help.
View the Victim Support and Referral Fact Sheet
Watch videos in your language.
Watch captioned and non-captioned Auslan videos.
Find out how to report crime and missing persons, what happens after a crime is reported and where to get help in clear and easy to read Fact Sheets
Find out how you can stay safe.
Read the Charter of Victims Rights, Victims Policy Statement, Customer Services Charter & Guidelines, and more.
Did we help you today? Let us know by completing our survey. We value your feedback to improve our online services.