Welcome to the new Community Portal
The Community Portal is your online channel to lodge crime reports and make applications for information. And now the NSW Police Force is proud to announce major enhancements to the already successful reporting channel ensuring it continues to be easy to use, confidential, and always secure.
---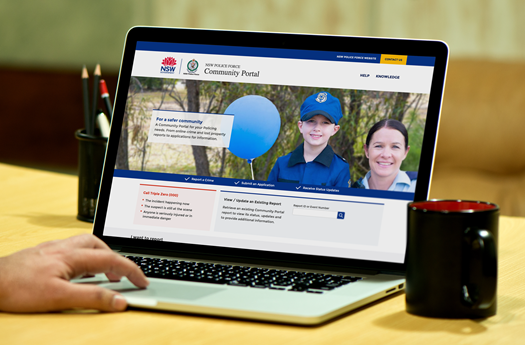 What's New?
We have fully rebuilt the portal to feature a new, sleek design with more support information. This redesign is not only easy on the eye but reworks the navigation to be much easier to use. We have also simplified your access so that you can easily create and manage your report(s) online. We've also added a new report type, so you can now report the failure to pay for goods or services.
We are excited about these improvements because they were made to improve end to end digital user experience.
---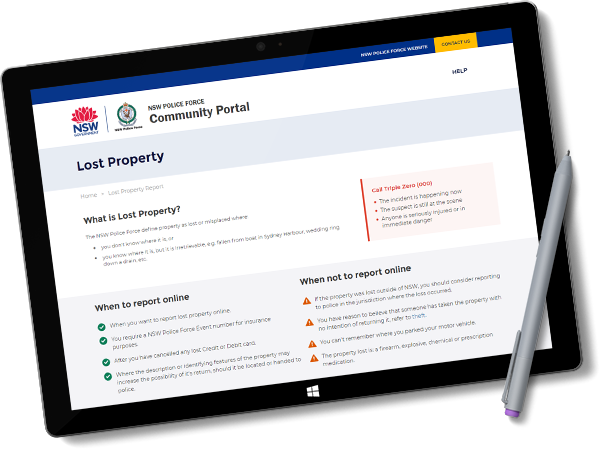 Easier to Understand. Easier to Report.
Keeping in mind that it's hard enough to be a victim of a crime, we have made sure that your online reporting process is straightforward. The report selection from the home page is more intuitive and easier to understand with simpler and explanatory triage process.
Lodging a report is a simple three steps process:
1. Follow the explanation about the report you've selected and examples when it should be used. Just to make sure you've selected the correct report.
2. Some reports can be more complicated, answering simple to understand triage questions will automatically direct you to the exact report you need.
3. Lastly, a clear and concise information will be presented to you about what it is we expect from you and what you should expect from us when lodging your report.
---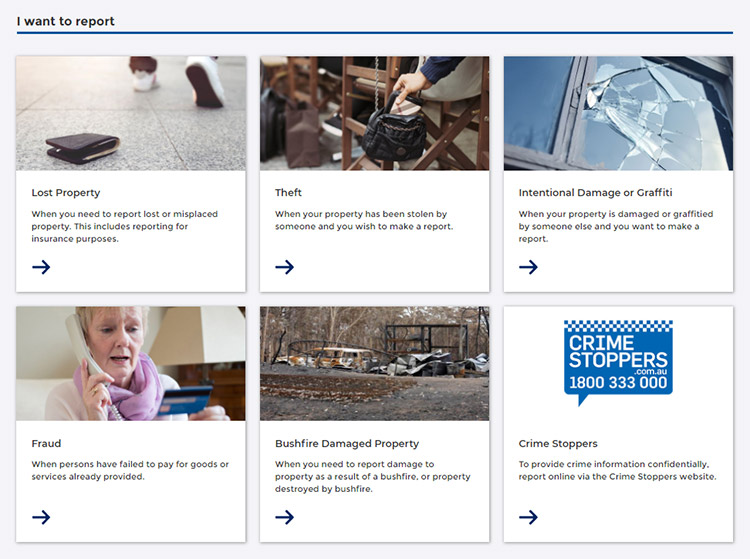 New Reports. More Flexibility.
We've been working hard to provide the community with more reports to choose from. In addition to the lost property, theft and intentional damage (including graffiti) reports, we've added the ability for service station operators to report fuel drive offs, taxi operators to report fare evasion and other proprietors to report the failure to pay for goods or services.
---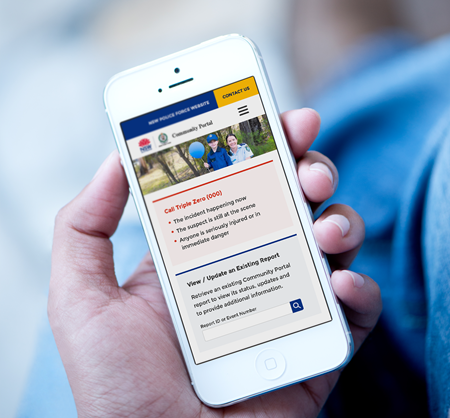 Increased Size for Modern Devices
Today's devices are capturing rich content in high resolution images and large format video. That's why every Community Portal report continues to provide you the ability to upload media files in real time straight from your smartphone, tablet or laptop. This is in addition to the standard file types like word processor, spreadsheet or slideshows. We've got them and more covered with our uploader that should leave you with all your relevant files uploaded with your report.
We've also increased storage limit allowing you to add more voluminous files. So, compressing that .jpeg or zipping that Word document is a thing of the past. This will help you to add most things easily and quickly to your report.
We'll keep this page updated with upcoming changes and launch date, so stay tuned.
---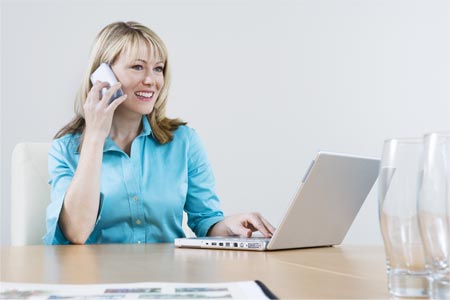 Changes for Service NSW Customers
Previously, access to the Community Portal website was dependant upon a connected Service NSW account. The new Community Portal frees customers of the need to establish a Service NSW account in order to create and lodge reports. This is another step closer to providing the most seamless reporting experience for not only NSW residents, but also for customers that may visit from interstate or overseas. Combined with feature rich, quick and easy reporting functions the Community Portal remains the quickest way to lodge your report with the NSW Police Force.
---
Learn more from our information pack
Our easy to read Community Portal Information Pack has a lot more information about the changes that are coming and how to best use the new Community Portal. It's free to download. Share it with your friends and family.