The NSW Police Force has more than 80 Facebook pages, including an Eyewatch page covering local areas.
The NSW Police Force Facebook page has more than 850,000 fans and provides crime information, warnings and crime prevention tips that are of major or statewide significance.
At the local community level we have Eyewatch which has established a Facebook page in every Police Area Command (PAC) / Police District.
Eyewatch is all about connecting the local community with local police and has been an outstanding success to date with more than 500,000 people connected to their local police via Facebook.
You can ask questions to your local police seek advice or share crime and safety information. Police use Eyewatch to let people know about local crimes and post photos of missing or wanted people.
Eyewatch is now providing the community with an alternative to attending meetings in the local hall. You can participate in crime prevention meetings online subject to your Neighbourhood Watch participation.
To find your local Eyewatch page, click on your Local Area Command above. If you are unsure of the name of your PAC / Police District, type in your postcode or suburb into our police station search. Remember to 'like' the page to get regular updates from your local police.
It is important to remember that you should not use our Facebook pages to report crime or confidential information.In an emergency, contact Triple Zero (000).
If you wish to pass on information about a crime anonymously, call Crime Stoppers on 1800 333 000.
5 reasons to follow NSW Police on Facebook:
Find out about crimes in your area
Get emergency alerts and warnings
Help us solve and prevent crime
Ask us for advice or assistance
Ability to attend Eyewatch meetings (the online version of Neighbourhood Watch) subject to Neighbourhood Watch participation.
Eyewatch Model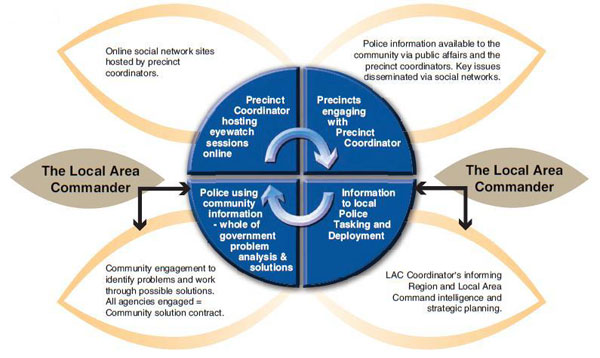 The Strategy
It is envisaged that the community have a wealth of knowledge about their own environment. The community are in the best position to consider law enforcement and local government strategies to reduce crime and the perception of crime. To assist in this process it is considered that Project eyewatch will operate around four (4) key strategies
We will focus on the people who need our help
With eyewatch, Local Police and Crime Management Units will develop a strong opportunity for community to participate in policing - Our greatest asset is community information, which can be acted upon by Police who are adaptive and responsive.

We will empower accountability
Local Police using eyewatch will engage their community to participate in the decision making about policing their communities. They will be facilitated by trained coordinator's and be supported by Police and Local Government coordination to ensure all opportunities for improvement to safety in communities are recognised.

We will balance priorities
Recognising our community, seeking engagement in achievements and developing issues is the best way to gain support for setting priority. Our strategies and success developed by Local Community and Government Teams will be marketed through eyewatch and via media outlets.

We will develop community capacity and sustainability
Local Police will work with their community precincts and actively recruit key community members to develop or enhance their capability and be measured on outcomes, where the need for improvement was identified. If required a higher level coordination and support will be provided to them by Crime Prevention Partnerships, Regional Interagency Teams and support services.
Community engagement is already part of the way in which police "do the business". It is the involvement of the public both individually and through groups, committees and agencies in the decisions we make and the activities police undertake. eyewatch allows a greater flow of information via the social network phenomenon.