Commissioner Michael Fuller APM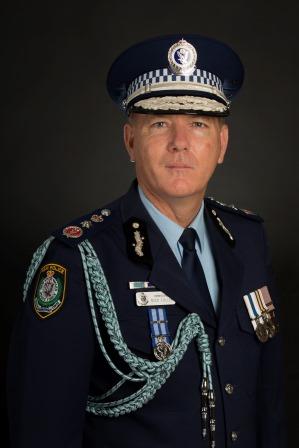 Commissioner Fuller joined the NSW Police Force in 1987. He performed general duties and criminal investigation duties in various metropolitan stations and specialist investigative areas.
In 2002 Commissioner Fuller was promoted to the rank of Inspector and performed the roles of Duty Officer, Crime Manager and TAG Commander. Subsequently he was promoted to Superintendent in 2004 and worked in a numberof positions including as Local Area Commander in the City Central LAC. He was also involved in the planning and operations of APEC in 2007 and World Youth Day in 2008. He gained experience in the Police Executive Offices as Staff Officer to the Deputy Commissioner Field Operations in 2007 and 2008.
In 2010 Commissioner Fuller was appointed to the position of Assistant Commissioner, Region Commander, SouthernRegion. He was subsequently appointed to the positions of Assistant Commissioner, Commander, Professional Standards Command and then to the position of Assistant Commissioner, Commander, Central Metropolitan Region. Commissioner Fuller was also the Corporate Spokesperson for Family and Domestic Violence. He also has experience acting in the positions of Deputy Commissioners Field Operations and Corporate Services.
Commissioner Fuller received the Australian Police Medal in 2009.
He holds a Graduate Diploma of Executive Leadership, and Diploma of Applied Policing and a number of diplomas and certificates in leadership and management.
Commissioner Fuller is married with 4 children.
Career:
1987 Kogarah General Duties/ Investigations
1992​ City of Sydney Investigations; designated Detective 1993
1994​ Crime Task Forces, Criminal Investigation
2000​ Kings Cross, Detective Sergeant, Criminal Investigation
2002​ Eastern Beaches, Inspector Duty Officer
2003​ Ashfield Target Action Group
2004​ Greater Metropolitan Region, Superintendent Operations Manager
2007 ​Staff Officer, Deputy Commissioner, Field Operations
2008​ Eastern Suburbs, Local Area Commander
2009 ​City Central, Local Area Commander
2010​ Assistant Commissioner, Commander Southern Region
2013​ Assistant Commissioner, Commander Professional Standards
2014 ​Assistant Commissioner, Commander Central Metropolitan Region
2017​ Commissioner of Police
Awards:
2004 ​National Medal
2004​ NSW Police Medal
2004​ 1st clasp to NSW Police Medal
2009 ​2nd clasp to NSW Police Medal
2009 ​Australian Police Medal
2014 ​National Police Service Medal
2014​ 1st clasp to National Medal
Academic Qualifications:
NSW Police Detective Designation Course
Graduate Certificate, Change Management, South Western Sydney Institute
Diploma Business Management, TAFE NSW
Diploma of Applied Policing, Charles Sturt University
Emergency Management Arrangements
Managing an Emergency Operation
Working in an EOC
Graduate Diploma in Executive Leadership, Australian Institute of Police Management