You may have received an SMS message from number +61 444 444 444 with details about a missing person.
These SMS messages are not a scam and are official text messages from the NSW Police Force as part of the new geo-targeting alert system.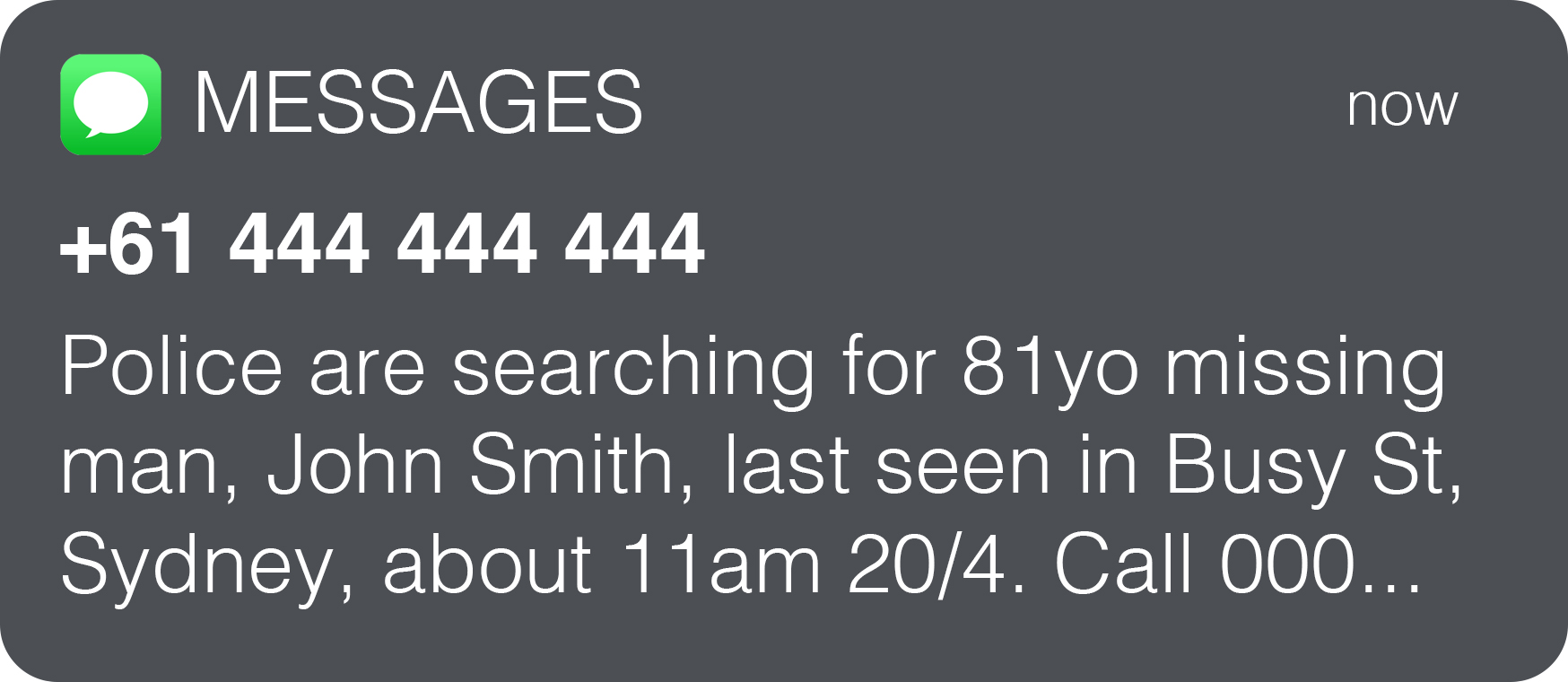 Why am I being sent this message?
The +61 444 444 444 messages are sent out to people within the area of a high-risk missing person's last known location in the hopes you may be able to provide police with real-time information to ensure the missing person is located safely.
You will receive a message if you have been within 5km (in metropolitan areas) or 20km (in regional areas) of a missing person's last reported location.
The text message will include the name and a physical description of the missing person, where they were last seen and how to report a sighting.
How did you get my number?
The NSW Police Force and NSW government works with mobile providers such as Telstra, Optus and TPG under the Emergency Alert Framework.
The Emergency Alert is a national telephone warning system that allows emergency services to send out alerts in emergency events. The system has already been in place for several years and is used during other emergency situations like bushfires, floods and other extreme weather conditions.
The +61 444 444 444 alert is only used in high-risk circumstances, with an assessment of all available information to be undertaken by police before a geo-targeted SMS message is sent.
What is a high-risk person?
A high-risk missing person includes people living with mental illness, people living with dementia who have wandered from their home and young children.
When these people go missing there are serious concerns for their safety if they are not located quickly and why the +61 444 444 444 message is sent out.
What do I need to do if I receive a message?
It's important to read the message which will contain the name and a description of the missing person. If you have sighted the missing person or have any information, we ask that you immediately ring 000 and report the person's whereabouts or pass on the information you have.
If you don't have any immediate information we ask that you remain aware of the missing person's description and report any further information if you observe them.
Why are police using this service?
The emergency alert messages are part of a strategy developed in 2019 with the NSW Police Force's Missing Persons Registry to reduce the number of people who go missing long-term and to better ensure the safety and well-being of high-risk people within our community.