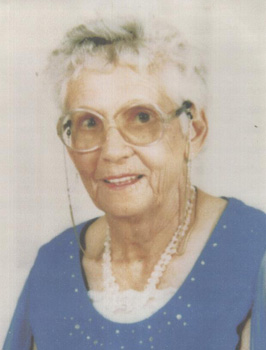 Janie Perrin
A $100,000 reward is on offer for information leading to the arrest and conviction of those responsible for the murder of senior citizen Janie Perrin.
The 73-year-old woman's bludgeoned body was found in her unit in Bourke on 3 November, 1990.
She had been sexually assaulted and murdered some time after 9pm the evening before when she was seen walking into her home.
The killing of this frail old woman was a particularly heinous crime.
A worried neighbour contacted Police concerning the welfare of Mrs Perrin when she had not seen her the day after her last sighting.
Officers who looked inside a window saw her lying dead inside her small flat.
A number of personal items belonging to Mrs Perrin were also stolen at the time of her death.
No-one has been charged so far despite extensive inquiries by investigating police.
These inquiries have involved interviewing hundreds of people and inquiries continue to this day.
The case was subject to a 'cold case' review and the reward doubled in hope of securing enough evidence to lead to a conviction.
Anyone who is shielding the killer through some form of misguided loyalty is urged to please now do the right thing and tell the Police what you know.
Mrs Perrin's family is still living without closure and needs your help to finally allow them to end this horrific chapter in their lives.
This will only come with seeing the person or persons responsible for the death of their mother being brought to justice.
Anybody who has any information about this murder is urged to contact Bourke Police or report information using the methods shown below.
---
Do you have information that can help police with this case?
Any information you have about this is worth giving to police, no matter how small or insignificant it may seem.
You can provide information to police via any of the methods below:
Any information provided will be treated in the strictest confidence.
Your help may give police the clue they need to close this case and provide some comfort for the families of victims.
How to claim your reward
Contact Crime Stoppers or your local Police Station.
Identify yourself and indicate you have information about a crime and that you wish to claim a reward.
You will then be put in contact with a police officer involved in the investigation of that case.