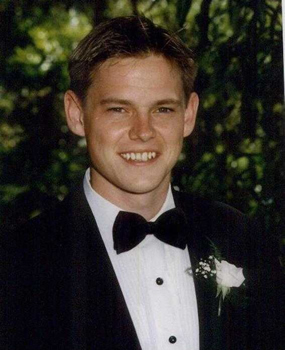 David Breckenridge
A $250,000 reward is on offer in relation to the unsolved 2002 murder of David Breckenridge at St Leonards.
A Coronial Inquest into the death of Mr Breckenridge concluded at Westmead Coroners Court on 4 September 2006.
The NSW Government is offering the reward in the hope of unearthing new information that may lead police to the killer/s.
David Breckenridge died from a number of stab wounds suffered in a vicious and apparently unprovoked attack.
Police investigators have been able to piece together some details of the circumstances surrounding his death, but have not been able to identify the person or persons responsible.
The NSW Government is therefore offering $250,000 for information leading to the conviction of a person or persons responsible for death of David Breckenridge on 10th August 2002.
Anyone with information is urged to come forward and help detectives find the criminal or criminals involved.
No matter how inconsequential the information may seem, the smallest piece of evidence may provide police with the breakthrough they need.
Police know the following details of David Breckenridge's movements on 10 August 2002:
10am, began work as a casual bartender at Moretons Hotel, 220 Sussex Street, Sydney;
11.29pm, left work and travelled from the city to St Leonards by 254 Bus to Lane Cove;
11.46pm purchased a six-pack of beer at the St Leonards Tavern;
11.52pm made two calls from a public telephone booth at the corner of Herbert Street and Pacific Highway, St Leonards;
Just before midnight was attacked after leaving the telephone booth; and
About 12.04am was discovered by a female motorist, at the intersection of Berry Lane and the Pacific Highway at St Leonards.
Mr Breckenridge was wearing blue jeans, black work boots, a long sleeved shirt and a dark coloured windproof jacket. He was carrying a satchel style back with a single strap.
Police are seeking assistance from any person who:
May have seen David Breckenridge whilst he was at St Leonards on the night;
May have been in the area at the time and have some information in regard to any activity, persons or motor vehicles. (Even if you consider the information insignificant - please contact police)
May have been in the vicinity of Berry Lane between 11.00pm and 12.00am on the 10 August 2002.
May have been at the St Leonards Tavern on the evening of 10 August 2002 - the night of a Tri Nations Rugby game between New Zealand and South Africa and the night prior to the City to Surf; and
May have spoken to an individual with knowledge of the homicide.
Anyone with information should contact North Sydney Police Station or report information using any of the methods below.
---
Do you have information that can help police with this case?
Any information you have about this is worth giving to police, no matter how small or insignificant it may seem.
You can provide information to police via any of the methods below:
Any information provided will be treated in the strictest confidence.
Your help may give police the clue they need to close this case and provide some comfort for the families of victims.
How to claim your reward
Contact Crime Stoppers or your local Police Station.
Identify yourself and indicate you have information about a crime and that you wish to claim a reward.
You will then be put in contact with a police officer involved in the investigation of that case.