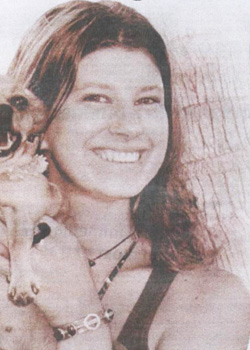 Kelli Carmichael
The NSW Government today offered a $200,000 reward for information leading to the conviction of the person(s) responsible for the disappearance and death of Kellie Ann Carmichael.
The 24 year old Geelong woman was last seen by staff at a hostel in Katoomba on the 29th April 2001.
Minister for Police Michael Daley said that when Kellie left, she told staff she would be back later that today to collect her belongings.
"Tragically, that was the last time she was seen alive," he said.
"Her parents, John and Margaret, contacted hostel staff on May 5th and after discovering that her belongings were still at reception, they reported her missing to Katoomba Police Station.
"Around May 12th Kellie's parents travelled to Katoomba where they collected her belongings – which included her ID, wallet, mobile phone, bankcard, Medicare card, camera and toiletries.
"Her parents spent two days searching for their daughter, and were later joined by their son Danny for another unsuccessful week.
"Since then, they've wondered what happened to their youngest daughter."
In 2004, State Crime Command Homicide detectives took over the investigation.
Despite numerous inquiries police have so far been unable to arrest any person they believe is responsible for this crime.
Mr Daley said police believe people in the community may have information about Kellie's disappearance and this substantial reward may encourage those people to come forward.
"The person responsible for this crime deserves to be behind bars – and police will not give up until they are," Mr Daley said.
Anyone with information is urged to contact Crime Stoppers on 1800 333 000.
Information can be given anonymously at anytime of day or night.
---
Do you have information that can help police with this case?
Any information you have about this is worth giving to police, no matter how small or insignificant it may seem.
You can provide information to police via any of the methods below:
Any information provided will be treated in the strictest confidence.
Your help may give police the clue they need to close this case and provide some comfort for the families of victims.
How to claim your reward
Contact Crime Stoppers or your local Police Station.
Identify yourself and indicate you have information about a crime and that you wish to claim a reward.
You will then be put in contact with a police officer involved in the investigation of that case.