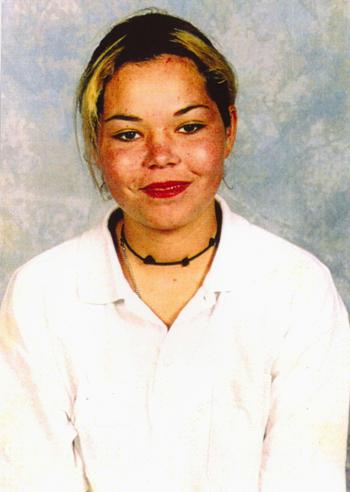 Police investigating the disappearance of a 15-year-old girl from her South Coast home 13 years ago have welcomed the announcement of a $100,000 reward by the NSW Government.
Kathleen Harris was last seen at her home by her friend Clinton Hanlon about 9pm in Huskisson on Sunday 31 May 1999, Mr Hanlon was a member of the Rebels outlaw motorcycle gang and Kathleen's home adjoined the clubhouse.
She had planned to meet with friends the following day but never arrived. She was subsequently reported missing by her father and Mr Hanlon.
Police are treating her disappearance as suspicious and have not ruled out that Kathleen may have been murdered.
Detectives from the Shoalhaven Local Area Command continue to investigate Kathleen's disappearance under Strike Force Jerrett and hope the reward may encourage someone to come forward.
"Kathleen's disappearance was completely out of character," Shoalhaven Local Area Commander, Superintendent Joe Cassar, said. "Her personal belongings, including her purse and keys, were located in her home, and family and friends have not heard from her since she went missing.
"Kathleen had been in Australia since 1995 since moving here with her father from her native Costa Rica, but she had always kept in close contact with her relatives and friends back home. "No-one has been able to shed any light on why she would disappear without a trace, and that's why we believe she may have met with foul play.
"However, someone out there knows what happened to Kathleen and we do hope the incentive of a $100,000 reward may encourage them to come forward.
"By providing that information to police, they could help bring some closure to her family who just want to know the truth."
Superintendent Cassar said a renewed appeal for information three years ago had led to the forensic examination of a vehicle.
"That certainly remains a line of inquiry, but what we really need to move forward in this case is further information from the public," he said.
Kathleen was 160-170cm tall, with a slim build, brown to blonde collar-length hair and an olive complexion. She was last seen wearing brown corduroy jeans, a white long-sleeved top and a pair of brown strap-up boots.
Anyone with information about Kathleen's disappearance is urged to contact Crime Stoppers on 1800 333 000. Information can be provided anonymously.
The reward of up to $100,000 is payable for information leading to the arrest and conviction of the person or people responsible for Kathleen's suspected murder.