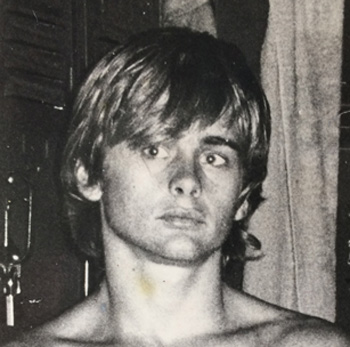 Police and family members have welcomed a $100,000 reward for information relating to the disappearance of Paddington man Stephen Jelfs in 1978.
Mr Jelfs was 21 at the time of his disappearance and a Coronial Inquest in 2009 found that he was deceased, but that the cause of his death was unknown.
The investigation into his disappearance is now with the Homicide Squad's Unsolved Homicide Team.
Detective Chief Inspector John Lehmann from the Unsolved Homicide Team said Mr Jelfs was originally from Canberra, and had moved to Sydney at the age of 16 where he set up a florist and plant store in Paddington.
"Stephen lived in an apartment at Sutherland Street, Paddington, with his partner who last saw him at the address on 24 April 1978," Det Ch Insp Lehmann said.
"He was a keen traveller, having travelled to Asia, Europe, the United Kingdom and the United States. He was also a member of Sydney's gay community."
Police have been told Mr Jelfs had been acting in a nervous and agitated manner in the months prior to his disappearance, which was out of character for him.
They were also advised that he had been associating with a person believed to be involved in the supply of prohibited drugs.
Extensive inquiries have been conducted by police, but the circumstances surrounding Mr Jelfs' disappearance and death, including if there are suspicious circumstances, remain unknown.
The Homicide Squad is now hoping that the reward being offered by the NSW Government will be an incentive for someone to come forward, as are the family of Mr Jelfs who have travelled to Sydney for the reward announcement.
"I hope the reward will bring someone or something out to solve this matter which has haunted my family and myself for 38 years," Stephen Jelfs' father, Neville Jelfs, said.
The reward of up to $100,000 is available for information that leads to the conviction of a person or people responsible for the death of Stephen Jelfs.
Police are urging anyone with information in relation to this incident to call Crime Stoppers on 1800 333 000 or use the Crime Stoppers online reporting page: https://nsw.crimestoppers.com.au/ Information you provide will be treated in the strictest of confidence. We remind people they should not report crime information via our Facebook and Twitter pages.