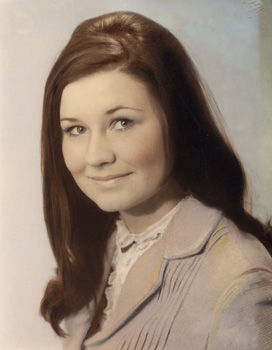 Joan Maree Wech
Tomorrow marks 40 years since 19-year-old Joan Maree Wech was fatally stabbed in Sydney's Darlinghurst and a $100,000 reward has been launched to help solve the murder.
Joan's body was located in a small store room of the 'Sydney Service Station' – a petrol station in Flinders Street, Darlinghurst, about 10.35pm on Saturday 2 October 1971.
Joan had suffered seven stab wounds to the front of her body and died at the scene. She had defensive wounds on her left hand and bruising to her lips suggesting she had been punched in the face.
Police were unable to establish a motive for the murder, with sexual assault ruled out and no evidence suggesting it was a robbery.
The investigation was extensive, however, no-one was charged with Joan's murder.
At the time the NSW Government gazetted a reward of $5000.
Joan was a New Zealand National, born on 12 February 1952 in Devonport, New Zealand. She was one of three siblings.
Joan first visited Sydney during the 1970s and earned money as an attendant at a car wash centre in Rushcutters Bay.
She returned home to New Zealand during the Christmas of 1970, returning to Sydney in February 1971 and finding work at the Sydney Service Station.
At the time of her death she resided with a young couple in Darlinghurst.
Joan was a popular girl with many friends.
On 25 October 1972 an inquest was held at Glebe Coroner's Court before Coroner Waller, SM. A total of 28 people gave evidence at the inquest and the Coroner returned an 'open finding'.
Joan's family was present at the inquest.
The matter is currently being investigated by officers attached to the Unsolved Homicide Team, Homicide Squad at State Crime Command.
Yesterday, the Minister for Police and Emergency Services, Michael Gallacher, launched a $100,000.00 reward for any information leading to the arrest and conviction of a person or people responsible for Joan's death.
Detectives hope that after the passing of 40 years, some one in the community will have some information which may assist in identifying Joan's killer.
Anyone who can assist police should contact Crime Stoppers on 1800 333 000. Information can also be provided anonymously.
---
Do you have information that can help police with this case?
Any information you have about this is worth giving to police, no matter how small or insignificant it may seem.
You can provide information to police via any of the methods below:
Any information provided will be treated in the strictest confidence.
Your help may give police the clue they need to close this case and provide some comfort for the families of victims.
How to claim your reward
Contact Crime Stoppers or your local Police Station.
Identify yourself and indicate you have information about a crime and that you wish to claim a reward.
You will then be put in contact with a police officer involved in the investigation of that case.