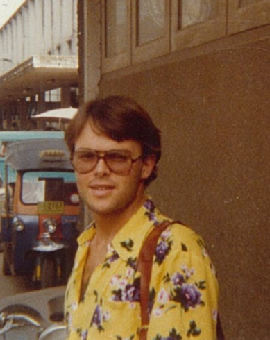 Ante Yelavich
Minister for Police Michael Daley today announced a $100,000 reward to help find those responsible for the murder of Sydney man Ante Yelavich.
Mr Daley said the 29 year old was last seen leaving his parents' house in Manly on the evening of September 2nd, 1985 to meet with a male person in the Manly area.
"In November 2004, a new NSW Police Strike Force was established to re-investigate the disappearance and suspected murder of Mr Yelavich," he said.
"Police are not giving up on this case - Strike Force Bredin believes new information will assist them in identifying the perpetrators.
"Mr Yelavich's family deserves to know what happened to him, and I hope that the significant reward being offered by the NSW Government will encourage someone to come forward.
"If anybody has any piece of information, however small, it could prove to be the vital link Police need to find out what happened," Mr Daley said.
Detective Inspector John Lehmann, Unsolved Homicide Squad Investigator said Police continue to conduct inquiries into the incident and hope this reward will assist in bringing closure to the case. "We are keen to speak with anyone who has information about the incident and who has not yet spoken with police," he said. "Detectives are committed to thoroughly investigate this matter and stress that community information is valuable in assisting police to achieve an outcome," Mr Lehmann said.
Mr Daley said that any information will be treated as strictly confidential and may be given at any time of the day or night.
Anyone with information should contact Crime Stoppers on 1800 333 000.
---
Do you have information that can help police with this case?
Any information you have about this is worth giving to police, no matter how small or insignificant it may seem.
You can provide information to police via any of the methods below:
Any information provided will be treated in the strictest confidence.
Your help may give police the clue they need to close this case and provide some comfort for the families of victims.
How to claim your reward
Contact Crime Stoppers or your local Police Station.
Identify yourself and indicate you have information about a crime and that you wish to claim a reward.
You will then be put in contact with a police officer involved in the investigation of that case.