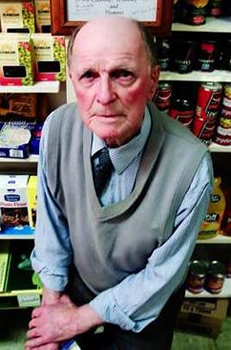 Frank Newbery
A $100,000 reward is being offered by the NSW Government to solve the brutal murder of popular Newcastle grocery store owner Frank Newbery.
The Reward is available to anyone who can provide information leading to the arrest and conviction of Mr Newbery's killer/s.
Frank Newbery was a much loved member of the Cooks Hill community.
Mr Newbery, known by locals as 'Old Frank', was bashed to death while working at his grocery store Franks Ham & Beef on 12th March, 2007.
Mr Newbery was 87 years old.
Mr Newbery was a much loved community member, who had run his store for 49 years and was voted by his customers in 2001 as the 'Best Grocer in the World'.
It appears that robbery was the motive for the murder.
Mr Newbery's body was found next to the store cash register which had been ripped open and money taken from the til.
The attack happened at approximately 4:15pm. Someone may have seen a person acting suspiciously around the store, either just before or just after the murder.
Strike Force Rynan was established to investigate the murder but the leads have dried up.
---
Do you have information that can help police with this case?
Any information you have about this is worth giving to police, no matter how small or insignificant it may seem.
You can provide information to police via any of the methods below:
Any information provided will be treated in the strictest confidence.
Your help may give police the clue they need to close this case and provide some comfort for the families of victims.
How to claim your reward
Contact Crime Stoppers or your local Police Station.
Identify yourself and indicate you have information about a crime and that you wish to claim a reward.
You will then be put in contact with a police officer involved in the investigation of that case.