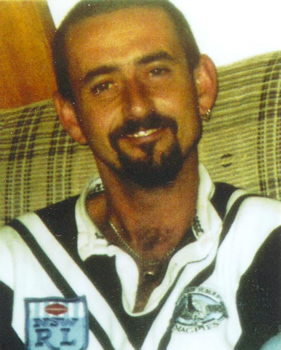 Jonathan Mitchell
A $100,000 reward is on offer to solve the stabbing murder of Jonathan Mitchell, who was found dead in his home in Sydney's west in late 2003.
The victim was found murdered in the kitchen of the home at Toongabbie in what police have described as a shocking crime.
Mr Mitchell, 28, was murdered on 6 December, 2003 after attending the annual Homebake music festival.
The victim had left the Homebake festival early and met his brother at the Pendle Inn at Pendle Hill. He would have arrived home at around 7pm.
Mr Mitchell was discovered in the kitchen with a fatal stab wound to the neck at around 12:15am by a housemate and friends.
A cricket bat believed to have been used to attack Mr Mitchell was found in a gutter nearby the house.
If anyone noticed anything suspicious around the Bryson Street home, they could hold the clue which can crack this case.
If someone does not wish to claim the reward but to clear their conscience, they can contact Crime Stoppers anonymously.
---
Do you have information that can help police with this case?
Any information you have about this is worth giving to police, no matter how small or insignificant it may seem.
You can provide information to police via any of the methods below:
Any information provided will be treated in the strictest confidence.
Your help may give police the clue they need to close this case and provide some comfort for the families of victims.
How to claim your reward
Contact Crime Stoppers or your local Police Station.
Identify yourself and indicate you have information about a crime and that you wish to claim a reward.
You will then be put in contact with a police officer involved in the investigation of that case.