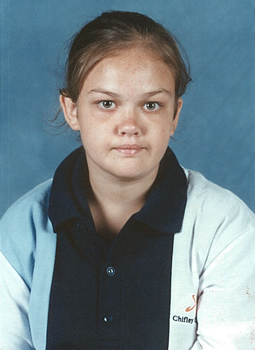 Michelle Pogmore
A $100,000 reward is on offer for information leading to the arrest and conviction of those involved in the murder of teenager, Michelle Pogmore.
The body of 14 year old Michelle was found in bushland adjacent to the Town Centre Reserve at Mount Druitt on 22nd February 2004.
Michelle was last seen about 9pm on 20th February, 2004, in Carlisle Avenue, Mount Druitt after leaving a street party around 7pm in Bidwill.
At the time Michelle was wearing a dark blue coloured hooded sloppy joe with "USA" on the front, white coloured track suit type pants and a pair of light blue coloured sand shoes.
Strikeforce Icework was formed to investigate Michelle's death, but unfortunately her murder remains unsolved.
An inquest was completed in February 2006 with the Deputy State Coroner unable to determine the exact time, place and cause of death.
From the evidence produced the Coroner could only establish that Michelle died sometime between the 20th and 22nd of February 2004.
Following the coronial inquest's open finding the Coroner recommended a $100,000 reward be offered to help police find the person or persons responsible for Michelle's murder.
Detectives investigating this tragic case have conducted extensive enquiries but have now exhausted all leads.
It's hoped this reward may persuade anybody with knowledge of Michelle's murder to come forward and provide police with information that could lead to an arrest and conviction.
---
Do you have information that can help police with this case?
Any information you have about this is worth giving to police, no matter how small or insignificant it may seem.
You can provide information to police via any of the methods below:
Any information provided will be treated in the strictest confidence.
Your help may give police the clue they need to close this case and provide some comfort for the families of victims.
How to claim your reward
Contact Crime Stoppers or your local Police Station.
Identify yourself and indicate you have information about a crime and that you wish to claim a reward.
You will then be put in contact with a police officer involved in the investigation of that case.