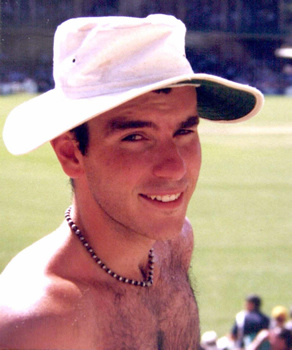 Clint Milazzo
A $100,000 reward is on offer for information leading to the arrest and conviction of those involved in the murder of a police recruit in 2003.
Clint Milazzo was assaulted outside the Ettamogah Hotel on Kellicar Road in Campbelltown on 23rd February, 2003 and died of severe head injuries on 3rd March.
Mr Milazzo, 24, was drinking with a friend and left the hotel at closing time. He and his friend were assaulted while standing in the undercover car park waiting for a taxi near the hotel.
According to investigators, Mr Milazzo was punched in the head, causing him to fall to the ground.
He suffered serious head injuries and was taken to the Intensive Care Unit at Liverpool Hospital where he underwent several operations over the next few days.
Unfortunately, his health continued to deteriorate and he died on 3rd March, 2003 from the severe injuries he suffered during the attack.
Mr Milazzo was an applicant to enter the NSW Police College in Goulburn shortly before his death. His widow is a current NSW Police officer.
A coronial inquest in 2005 returned an open finding and recommended a $100,000 reward be offered to help police find the person or persons responsible for the attack on Mr Milazzo.
Campbelltown detectives have conducted extensive enquiries but have exhausted all leads.
It's hoped this reward may persuade somebody with knowledge of Clint's murder to come forward and provide police with information that could lead to an arrest and conviction.
Anybody who has any information about Mr Milazzo's murder is urged to contact Campbelltown Police or report information using the methods shown below.
---
Do you have information that can help police with this case?
Any information you have about this is worth giving to police, no matter how small or insignificant it may seem.
You can provide information to police via any of the methods below:
Any information provided will be treated in the strictest confidence.
Your help may give police the clue they need to close this case and provide some comfort for the families of victims.
How to claim your reward
Contact Crime Stoppers or your local Police Station.
Identify yourself and indicate you have information about a crime and that you wish to claim a reward.
You will then be put in contact with a police officer involved in the investigation of that case.