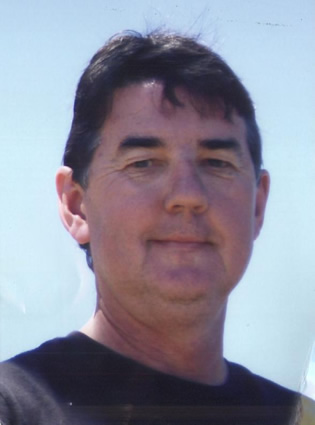 Brian Gilsenan
Minister for Police Tony Kelly today announced a $100,000 reward for information leading to the arrest and conviction of the person or persons responsible for the death of Brian Gilsenan in May 2008.
Mr Kelly said that Brian Gilsenan was attacked by a man in the Sydney CBD, and fell to the ground, striking his head on the concrete footpath. The 54 year old Gilsenan, an IT project manager and father of two, did not recover from a serious brain injury and died shortly afterwards.
"This crime took place in a very public place at a time when commuters were heading home so police are appealing to anyone who might have been in the Bathurst St area at the time to come forward.
"There is some CCTV footage and police are hoping someone will be able to identify the grainy pictures of two males they want to interview.
Mr Kelly said the reward offer was part of a campaign to find witnesses that would include police canvassing a number of railway stations beginning Monday morning in the hope of finding any possible witnesses to the attack.
Police are also keen to identify:
two males described as being aged in their late teens, of white European appearance. One was wearing a white singlet, shorts and white sneakers. The other was last seen wearing a blue or grey t-shirt, dark pants and black and white sneakers.
one of the males in the company of a young woman near the World Square shopping precinct, almost an hour before the attack.
a 'mystery man' carrying a Coca Cola bottle, who stopped to help Mr Gilsenan after the attack.
"I encourage anyone with any information to contact police, regardless of how insignificant the details may seem."
"Mr Gilsenan was an innocent victim and his family deserve to know what happened," Mr Kelly said.
Anyone with information is urged to contact City Central Police on (02) 9265 6499 or Crime Stoppers on 1800 333 000.
---
Do you have information that can help police with this case?
Any information you have about this is worth giving to police, no matter how small or insignificant it may seem.
You can provide information to police via any of the methods below:
Any information provided will be treated in the strictest confidence.
Your help may give police the clue they need to close this case and provide some comfort for the families of victims.
How to claim your reward
Contact Crime Stoppers or your local Police Station.
Identify yourself and indicate you have information about a crime and that you wish to claim a reward.
You will then be put in contact with a police officer involved in the investigation of that case.