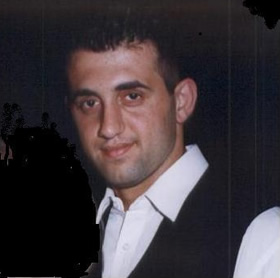 Milad Sande
Minister for Police, Tony Kelly today announced the NSW Government is offering a $100,000 reward for information leading to arrest of those responsible for the murder of Milad Sande.
Mr Kelly said that the 29 year old Milad Sande died of gunshot wounds at Malabar on 23 November 2005.
"Investigations have revealed that at the time of his murder Mr Sande had links to organised crime, including the Nomads and Bandidos Outlaw Motorcycle Gangs (OMCG), and was involved in large scale drug distribution," Mr Kelly said.
Mr Kelly said that detectives will allege this incident is linked to death of Bandidos OMCG member Rodney Monk in 2006.
"This is a very serious crime and a lot of police resources have already been invested in finding the perpetrator," Mr Kelly said.
"Community input could change the course of the investigation and solve the circumstances of Mr Sande's death."
Mr Kelly said the Homicide Squad at the State Crime Command established Strike Force Lockhard to investigate Mr Sande's murder, but still needed more information from the community.
"The members of Strike Force Lockhard have already uncovered valuable intelligence about the murder and continue with their investigations," Mr Kelly said.
"I encourage anyone with information to contact police, regardless of how insignificant the details may seem."
Homicide Squad Commander Detective Superintendent Geoff Beresford said detectives have been working tirelessly on this case for more than three years.
"We will continue to dedicate all necessary resources to ensure the matter is thoroughly investigated," Detective Superintendent Beresford said.
"A number of lines of inquiry are being investigated, however the community's assistance is valuable in helping to solve this case."
Anyone with information regarding these murders is urged to contact Crimestoppers on 1800 333 000. Any information will be treated with the strictest of confidence.
---
Do you have information that can help police with this case?
Any information you have about this is worth giving to police, no matter how small or insignificant it may seem.
You can provide information to police via any of the methods below:
Any information provided will be treated in the strictest confidence.
Your help may give police the clue they need to close this case and provide some comfort for the families of victims.
How to claim your reward
Contact Crime Stoppers or your local Police Station.
Identify yourself and indicate you have information about a crime and that you wish to claim a reward.
You will then be put in contact with a police officer involved in the investigation of that case.