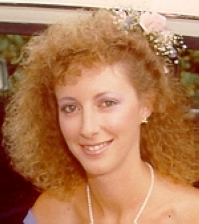 Bronwyn Winfield
Minister for Police Michael Daley today announced that a $100,000 reward would be offered to help Police solve the disappearance and suspected murder of Bronwyn Winfield.
Mr Daley said there are grave concerns for the welfare of the 31 year old, who disappeared 16 years ago.
"Ms Winfield was last seen at her Lennox Head home at 60 Sandstone Crescent on the 16th of May 1993," he said.
"Her estranged husband reported her missing to police on the 27 May 1993.
"She left behind two young children, aged five and ten at the time, making the attack all the more heinous.
"Ms Winfield's family, particularly her children, deserve to know what happened - and her murderer deserves to be behind bars.
"I hope that the lure of a cash reward may encourage those with information, who may have been reluctant to come forward at the time, to help Police bring those responsible to justice.
"Police are interested in any information which will lead to the arrest and conviction of those responsible for Ms Winfield's death.
"It may not seem like much but if anybody has any piece of information, however small, it could prove to be the vital link police need to find out what happened," Mr Daley said.
Unsolved Homicide Team Investigator, Detective Chief Inspector Dennis Bray said the Northern Region Unsolved Homicide team are dedicated to continuing their investigations into matter. "This remains an active investigation and police are hopeful the reward announced today will assist police in their ongoing investigations," he said. "Police urge anyone who may have information about the incident, no matter how small, to contact Crime Stoppers on 1800 333 000. "In particular police are appealing to anyone with details about Bronwyn's movements on the 15th and 16th of May 1993, to come forward. "Detectives are also keen to speak with anyone who was a close friend or associate or Bronwyn's," Mr Bray said.
Mr Daley said that any information given to Crime Stoppers will be treated as strictly confidential and may be given at any time of the day or night.
---
Do you have information that can help police with this case?
Any information you have about this is worth giving to police, no matter how small or insignificant it may seem.
You can provide information to police via any of the methods below:
Any information provided will be treated in the strictest confidence.
Your help may give police the clue they need to close this case and provide some comfort for the families of victims.
How to claim your reward
Contact Crime Stoppers or your local Police Station.
Identify yourself and indicate you have information about a crime and that you wish to claim a reward.
You will then be put in contact with a police officer involved in the investigation of that case.