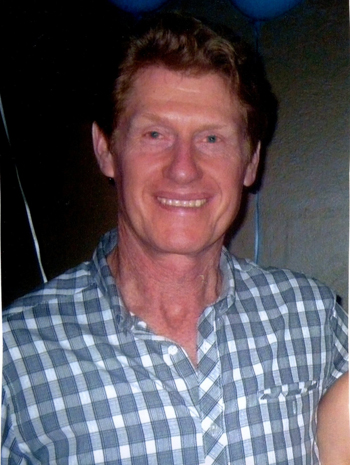 Detectives re-investigating the 2010 shooting murder of security guard, Gary Allibon, are appealing for community assistance following the announcement the NSW Government reward for information has been increased ten-fold to $1 million.
Just after 6am on Monday 7 June 2010, three men armed men approached a cash-in-transit van on Sussex Street, Sydney, and threatened the guards before stealing cash.
During the robbery, one of the guards, 59-year-old Gary Allibon, was shot in the back and his work-issued firearm was stolen. Despite the efforts of emergency services and medical staff, Mr Allibon died a short time later at Royal Prince Alfred Hospital.
A fourth man drove the men from the scene in a silver high-performance Audi S8 sedan.
The Audi was seen exiting the M5 at Henry Lawson Drive in convoy with a Mercedes C63 just before 10pm two days later (Wednesday 9 June 2010), before it was destroyed by fire in a car park at Milperra.
Investigators linked those vehicles to two others – a white BMW X6 4WD and a silver 2004 BMW 5-Series sedan. Neither the C63 nor the X6 have been recovered by police.
Ballistic examinations linked the firearm used in the murder to two other shootings at Vaucluse in 2007 and Merrylands in 2010, while casings located in the Audi linked it to a shooting at Wentworthville in 2010.
Despite extensive investigations at the time and throughout the past decade, no one has been charged over Mr Allibon's murder.
The case is currently under re-investigation by specialist detectives from the Robbery and Serious Crime Squad under Strike Force Lorimer.
To assist with their inquiries, NSW Minister for Police and Emergency Services David Elliott has announced the reward for information has been increased to $1 million.
Minister for Police and Emergency Services, David Elliott, said he hopes the increased reward will convince someone to come forward and provide police with the information they require to hunt down Mr Allibon's killer.
"A decade on, Mr Allibon's wife still deserves to know who took the precious life of her loved one and why. Gary was fatally shot in the early morning, when he was simply doing his job and minding his own business," he said.
"Someone must have seen or heard something. If you have any information at all regarding Gary's death, please contact police. Even the smallest bit of information could help solve this crime. It's never too late."
Robbery and Serious Crime Squad Commander, Detective Acting Superintendent Grant Taylor, said the re-investigation was building on well-established lines of inquiry.
"The original Strike Force Lorimer investigators established links between this case and other organised criminal activity, including three shootings, which we are continuing to explore," Det A/Supt Taylor said.
"We believe we have a clear picture of the events of the day, and a fair idea of the identities under the balaclavas, but we need the community's help to bring our case beyond reasonable doubt.
"Make no mistake, this wasn't a robbery gone wrong; Gary Allibon had complied with their demands and was executed in cold blood.
"The persons of interest to our investigation vary from those we believe know what happened or who was involved through to those who were there and the man who pulled the trigger.
"The time for any – or all – of these people to come forward is now. Strike Force Lorimer will get the pieces of information they need, so either way, you'll be seeing us soon."
Mr Allibon's widow, Monica, hoped the increased reward may bring new leads for investigators to finally provide justice for Gary.
"There are no words to describe the grief I felt the day Gary died; the grief of losing him and the grief of the loss of our future together," Monica said.
"That gut wrenching feeling has yet to subside, and I don't think it can while his killers continue to live their lives without facing the consequences of their actions.
"Gary was just months away from retirement and, in addition to our plans for relaxation and holidays, we had the simple dream of growing old together; that was ripped from us with a single bullet fired in greed.
"Those men robbed the van and took my husband's life, and the people who know them and what they did are robbing me of answers and justice for Gary."
Anyone with information that may assist Strike Force Lorimer detectives is urged to contact Crime Stoppers: 1800 333 000 or https://nsw.crimestoppers.com.au. Information is treated in strict confidence. The public is reminded not to report crime via NSW Police social media pages.