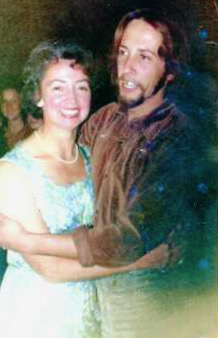 As Missing Persons Week 2021 continues, the NSW Government, together with the NSW Police Force, has announced a $1 million reward for information into the disappearance of Stephen Lapthorne and Michelle Pope from Sydney's North Shore more than four decades ago.

Stephen Lapthorne – then aged 21 – and his girlfriend, Michelle Pope – then aged 18 – were last seen leaving Stephen's home on Wyuna Avenue at West Pymble, on Friday 25 August 1978.
The pair was travelling in a lime green-coloured 1977 Bedford CF van – with NSW registration plates 'SL710' – and were believed to be heading toward Michelle's home at Berowra.

The Bedford van had a four-inch dark green horizontal band along each side, chrome plated mag wheels and a 150cm aerial in the centre of the roof, with a clip-on aerial above the driver's window.
Inside the vehicle were high back Ford escort seats and black curtains across the rear windows.
Despite extensive investigations by police over the years, Stephen or Michelle have not been seen or heard from since, and their vehicle has never been located.
In August 2005, a Coronial Inquest found Stephen and Michelle had died; however, the time and cause of their deaths was undetermined.
The case was subsequently referred to the State Crime Command's Homicide Squad for further investigation.
In January 2021, a formal review of the case was conducted under the Homicide Squad's Unsolved Homicide framework and a re-investigation commenced by detectives, with assistance from the Missing Persons Registry and Kuring-Gai Police Area Command.
In June this year, detectives from the Unsolved Homicide Team conducted a two-day search in the Ku-Ring-Gai National Park following the discovery of vehicle parts in McCarrs Creek.
Officers were assisted during the search by PolAir and Police Divers.
Several vehicle parts were recovered from the creek and sent for forensic examination, however, were not found to be a match.
As inquiries continue, police are renewing their appeal to the community to come forward with any information that may assist police.
Minister for Police and Emergency Services, David Elliott, today announced the reward for information to solve the case had been lifted from $100,000 to $1 million.
"Despite it being more than four decades since Michelle and Stephen were last seen, the NSW Police Force has never stopped seeking answers for their families," Mr Elliott said.
"Michelle and Stephen disappeared when their adult lives were just beginning, their families have missed out on seeing them grow and mature and have children – everything most of us take for granted.
"I am pleased that the NSW Government is doing what we can to support the Homicide Squad investigation by offering $1 million as an incentive to anyone with information to come forward and speak with detectives," Mr Elliott said.
Homicide Squad Commander, Detective Superintendent Danny Doherty, said Michelle and Stephen's families have spent nearly more than four decades searching for answers.
"Detectives have conducted a thorough review of the all evidence obtained and continue to explore every line of inquiry in the hope of finally getting answers for their families.
"Following the review, Unsolved Homicide detectives have thoroughly reviewed and investigated all information received relating to Michelle and Stephen's disappearance.
"Numerous searches have been conducted across NSW and interstate, and officers are continuing to make further inquiries with the Roads and Maritime Services.
"It's hoped that the increase in this reward will encourage anyone with information about their whereabouts, or the location of the car they were travelling in at the time of their disappearance, to come forward," Det Supt Doherty said.
Michelle's brother, Jeff Pope, said the impact his sister's disappearance had on his family was immense, particularly for their mum.
"Unfortunately, our mother, Veronica, passed away without ever knowing what happened to her beloved daughter Michelle," Jeff said.
"Not a day goes by where we don't think about Michelle and the life she could have led.
"We hope this reward will encourage someone to come forward with information – no matter how small. It's possible that it could help detectives and finally allow Michelle to rest in peace," Jeff said.
Stephen's sister, Kerrie Coy, said there had been no opportunity for family and friends to fully grieve the loss of her brother and Michelle, as their bodies have never been recovered.
"Forty-three years is almost a lifetime for some, and during that time many of our combined family members have grown old and parents have passed not knowing what happened to their son and daughter," Kerrie said.
"We are hoping there is someone out there that may be able to help police with their investigations, so we may finally have some answers about what happened that Friday afternoon.
At the time of his disappearance, Stephen was described as being of Caucasian appearance, about 175-180cm tall, with light brown shoulder-length hair and a moustache, blue eyes and of a medium build. He was last seen wearing a yellow and white-coloured chequered shirt, cream-coloured trousers and brown shoes.
At the time of her disappearance, Michelle was described as being of Caucasian appearance, about 175-180cm tall, with brown hair, blue eyes and of a medium build. She was last seen wearing a bone-coloured dress and red sandals.
Anyone with information about Michelle Pope and Stephen Lapthorne's disappearance is urged to contact Crime Stoppers on 1800 333 000.
Information is treated in strict confidence. The community is reminded not to report crime via NSW Police social media pages.
Missing Persons Week is an annual national campaign to raise awareness of the issues and impacts surrounding missing persons and runs between Sunday 2 August and Saturday 8 August 2020.

For more information on the campaign visit www.missingpersons.gov.au.