The NSW Government has increased the reward to $1 million for information over the suspicious disappearance and suspected murder of William Roach nearly three decades ago.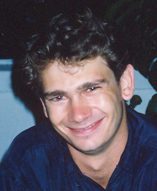 William "Bill" Roach was 25 when he was last seen on Barney Street, Armidale, on Friday 31 December 1993 and was reported missing in early 1994.
Strike Force Annan was established in 2004 to examine the circumstances surrounding Mr Roach's disappearance and a reward of $50,000 was originally offered for information.
In 2010, a coronial inquest was conducted and found that it was likely Mr Roach had died but the cause of death was undetermined. His body has never been located.
This was despite extensive investigations over the years, including the execution of a crime scene warrant at a property on the outskirts of Armidale in February 2016. The reward was increased to $100,000 at this time.
To assist with ongoing inquiries, the NSW Government announced the reward for information has been increased to $1 million from today (Tuesday 23 February 2021).
Minister for Police and Emergency Services, David Elliott, said he hopes the increased reward will help encourage anyone with information to come forward and assist Strike Force Annan.
"The pain of not knowing what has happened to a loved one is unimaginable, and we hope that the NSW Government's $1 million reward could be the push that helps police find answers for the Roach family," said Minister Elliott.
"Any information, no matter how small, could be the piece police need to solve this case."
New England Police District Commander, Detective Superintendent Steve Laksa, said that Mr Roach's family deserve answers.
"William's family is living with the pain of not knowing where he is, or if any harm has come his way, and they have waited long enough for answers," said Detective Superintendent Laksa.
"We believe there are people in the community who have vital information about William's disappearance and what happened to him on the last day he was seen alive."
"We are keen to speak with anyone who has information about his whereabouts, even a small piece of information about William's movements could make a big difference to this investigation."
At the time of his disappearance, William was described as being of Caucasian appearance, 180cm tall, of thin build, with brown wavy hair, and brown eyes.
When he was last seen, it is believed he was wearing blue jeans, work boots, and a red flannelette shirt with the sleeves buttoned up.
As the investigation continues, William's sister, Kim Roach, is hopeful for answers.
"It has been 27 years since we have heard from Bill and we just want to know what happened to him," said Kim.
'We are so grateful for a reward of this magnitude to be offered to assist investigators finally solve this case and find out what happened all those years ago."
The $1,000,000 reward is available for information leading to the discovery of William Roach's whereabouts or disclosing the circumstances of his disappearance. The investigation is also the subject of a new podcast, now available online.
Anyone with information about Mr Roach's disappearance is urged to contact Crime Stoppers on 1800 333 000. Information is treated in strict confidence. The community is reminded not to report crime via NSW Police social media pages.