Mell: My Decision
From the age of five years Mell was drawn to action – her favourite character on TV was a female police officer. As a Senior Constable, Mell was often in the thick of it and says that's probably how she ended up with her physical injuries. Pain from a recurring neck injury became impossible to ignore and a significant loss of strength in her right arm meant that Mell was no longer fit for operational duties.
Mell explains how medical retirement from NSW Police felt like her decision. Her biggest challenges initially were managing finances and achieving her independence again. In her current role, Mell retains much of the vigilance she developed as a Police Officer, and enjoys staying connected through Backup for Life where she contributes as a mentor.
Dave: Moving Forward
Dave was a NSW Police Force Officer for 12 years before he sustained an injury that lead to his medical retirement. Chasing adrenalin and a family history valuing service in the community inspired Dave's policing career choice and his sense of identity.
Dave describes how "it all fell apart" after injury, but he took control of his life, earned a qualification in mental health and started a new career. Dave shares his experience of moving forward to have a productive, excellent, and happy life.
Panel Video: Job-Ready: The Employer Perspective
Former officers have many skills and characteristics that are highly valued by employers and recruiters. For many officers, it's just a matter of recognising those skills in themselves and understanding how to represent themselves during the recruitment stages.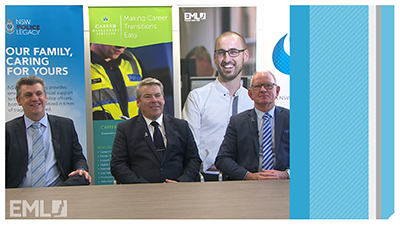 Find out what employers see in former police officers in this video featuring Gary Merryweather, NSW Police Legacy; Sean Haran, Beyond the Badge; and Shawn Taylor, Career Management Services.
01:06 What are the greatest strengths officers take into new roles?
02:18 Are an officer's skills transferrable?
03:36 Are there specific values that employers appreciate in a former officer?
04:29 What is the biggest challenge for a former officer securing new work?
05:29 Do employers ever express concern about taking on former cops who have injuries?
06:03 What do you say to an employer about hiring a former officer?
07:03 What kind of jobs do you see officers transition into?
07:57 What do you have to say to anyone out there saying "I've always been a cop, what else could I do?"
10:11 Is there help out there for people who want it?
Panel Snippet: Success Stories
The stories shared in this video demonstrate that former officers overcome challenges and find fulfilling roles in new careers.
"He was told and he believed he wouldn't work again... he picked up a role in a government department and it turned his life around. His family are happy again and he's moved on… his life now is back on track" recalls Sean Haran, Director of Back up for Life.
Shawn Taylor from Career Management Services describes how a former Senior Inspector who felt she was in a negative cycle didn't know how to get out. After engaging with career transition support services she had a resumé, LinkedIn profile, and a message from an employer that went along the lines of: "We really want to catch up with you and talk about these roles we've got!"