NSW Police Force is committed to creating an inclusive workplace for all people, where everyone is valued.
The NSW Police Force is committed to building a diverse workforce and inclusive workplace, where individual differences are valued and respected, and where everyone feels a sense of belonging and connection.
The NSWPF Inclusion & Diversity Strategy 2020-2023 (PDF) is our vision, commitment and roadmap for inclusion and diversity to thrive in our workforce and workplaces. The Inclusion & Diversity Strategy is for all our people and will focus on the groups called out in the Inclusion Circle (see below) as we recognise they often face additional challenges and barriers to success including; Aboriginal & Torres Strait Islander, Gender Equality, LGBTIQ Inclusion, Disability and Accessibility, Multi-Generational (Age Diversity) and Cultural Inclusion.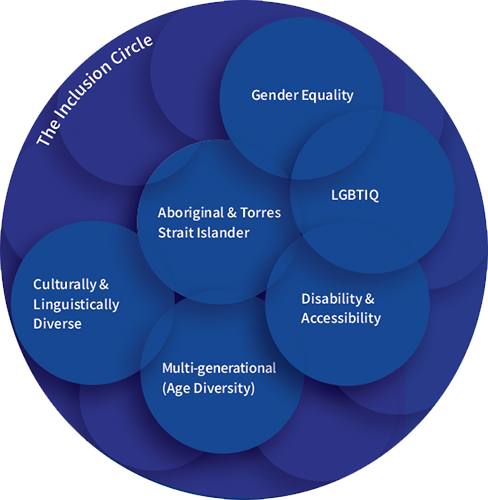 We recognise that people may identify with more than one social identity across a range of diversity groups.
Why this matters to us
In today's complex environment, organisations that value and promote diversity and inclusion are more successful in achieving their objectives.
When we all work together to make this strategy a reality it will help us find solutions to some of the toughest challenges in policing in NSW.
We'll notice this in three ways:
When we reflect the diversity of the community we serve, we're more aligned with their needs, and this enhances effectiveness.
Valuing differences can drive innovation and promote diversity of thought and help us deliver contemporary, innovative solutions.
Inclusive workplace cultures provide better experiences for people and lead to high-performing teams.
As an aspiring employer of choice, we know the strength of our workforce lies in our diversity. We are here to serve the community and do so with a quality service that's effective now and in the future. In NSW, our community is diverse and includes people of varying social identities, and so it makes sense that this diversity is also reflected in our workforce. The Inclusion & Diversity Strategy will make a meaningful difference in our workplace, to our people, and to the community we serve.
The NSW Police Force is committed to providing an inclusive workplace experience for our diverse people. We understand that our people and the community we serve are integral to the work that we do. Therefore, it is essential that we cultivate an environment and culture where our staff can feel recognised and valued for their distinct, diverse talents and perspectives.
Inclusion & Diversity Council
The NSWPF Inclusion & Diversity Council is internally focused and works collectively to influence the organisation's commitment in enabling a diverse and inclusive culture that reflects, respects and values the perspectives and participation of its employees.
The Council was established in June 2019, is sponsored by the Commissioner of Police, and convenes three times a year to help inform strategies and guide progress towards a more inclusive workplace at NSWPF. The Council is also responsible for leading internal employee networks.
Internal Ambassadors and Representatives advocate and endorse new approaches to inclusion, and ensure a strategic focus is maintained in line with broader NSW Government priorities.
We are committed to providing an inclusive workplace experience for our diverse people.
Inclusion & Diversity Team
The Inclusion & Diversity Team are responsible for developing and implementing the Inclusion & Diversity Strategy. For specialist advice and guidance contact HRdiversity@police.nsw.gov.au
Diversity Calendar of events
The NSWPF celebrates diversity through a range of corporate events, these include:
Sydney Gay and Lesbian Mardi Gras
International Women's Day
Harmony Week
National Reconciliation Week
Commissioner's Perpetual Awards for the Advancement of Women in Policing
NAIDOC Week
Wear it Purple Day
Inclusion Month
International Day of Older Persons
International Men's Day
International Day of People with Disability
Employee Networks
Currently, the NSWPF has two employee networks: Aboriginal Employee Network and Pride in Police Network.
In September 2022, a further three networks will be launched, and these include:
Cultural and Linguistically Diverse
Disability and Accessibility
Multi-Generational
Aboriginal Employee Network
The Aboriginal Employee Network focuses on building a culturally safe and sustainable network of Aboriginal NSWPF employees by providing cultural leadership, access to professional and cultural development, mentoring, networking opportunities with other Commands and Specialist Units including external agencies and Aboriginal Communities.
Pride in Police Network
The aim of Pride in Police, the NSWPF LGBTIQ+ Employee Network is to openly support lesbian, gay, bisexual, transgender, and intersex employees in all aspects of workplace inclusion. This will in turn contribute to a safe, equitable and respectful work environment in which all employees can bring their whole selves to work.
The network will achieve this by hosting both social and professional events, as well as advocating internally on LGBTIQ+ issues. The network is open to all NSWPF employees, whether they identify as part of the LGBTIQ+ communities or as an ally to those communities.
WeConnect - Inspiring Community & Connection for Women in the NSW Police Force
WeConnect is a program of work which encompasses a range of initiatives designed to connect, engage and develop women across the NSWPF.
Initiatives under WeConnect are:
Connect over a Cuppa. A monthly one-hour webinar featuring storytelling from senior women on how they have navigated and balanced their careers and personal life.
Catalyst Program. Designed and tailored for women to uplift professional and personal capabilities including resilience, confidence and courage.
Women's Symposium. Focusing on personal development and collaboration.
Accreditation programs
The NSW Police Force is committed to the inclusion of all our people through the promotion and cultivation of a workforce that is respected and valued for their diverse backgrounds, experiences and perspectives.
When we value inclusion and diversity, we build a workplace culture that enables diversity and fair and inclusive practices.
It is a priority of the NSW Police Force to create and promote a workplace that is conducive to a person's ability to express their authentic self at work. This authenticity contributes to one's overall sense of engagement, self-worth and wellbeing.
LGBTIQA+
In May 2022, the NSW Police Force was awarded Bronze ranking in the Pride in Diversity Australian Workplace Equality Index - reflecting substantial progress and activity in LGBTQ workplace inclusion.

The NSW Police Force has released its first Transgender and Gender Diverse Employees Policy Statement and Toolkit for Commanders and Managers, offering employees transitioning gender whilst employed by the organisation significant support including leave provisions and education and support for colleagues.
Australian Breastfeeding Association - Breastfeeding friendly workplace
The NSWPF first gained Breastfeeding Friendly Workplace Accreditation at the end of 2011 and is required to go through a rigorous re-accreditation process each year to maintain this status.
We are committed to ensuring our workplace facilities provide suitable accommodation and facilities for mothers to utilise.
We currently have 22 facilities available across the organisation and are continually striving to increase the number of dedicated breastfeeding rooms available.

Cultural and linguistically diverse - Community Language Scheme
The Community Language Scheme allows NSWPF employees with language skills to provide efficient and effective on the spot language assistance to members of the community.
The Community Language Scheme provides an opportunity for the organisation to embrace the talents and capabilities of our employees through the use of their language skills in the course of their duties. This also increases the confidence of culturally and linguistic diverse members of the community to seek services and engage with the NSWPF.
We currently have 163 employees across the organisation accredited in 33 languages.