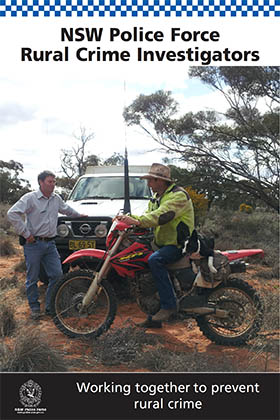 Rural crime costs millions of dollars every year. Theft of livestock, produce and equipment, illegal shooting, trespassing and other crimes affect people's livelihood and well-being.
NSW Police Force needs the community's help to identify people involved in rural crime. With a state-wide network of experienced and dedicated Rural Crime Investigators, we can work with rural communities to prevent and solve these crimes.
You can also report knowledge of rural crime anonymously to Crime Stoppers - 1800 333 000.
The Stock Theft Template (please place hyperlink to the new link on the side bar) is a guide victims of stock theft can use when reporting an incident to Police. This template is also a reference guide for all primary producers regarding the type of information Police may require when investigating stock theft.
Fuel theft is a significant issue for NSW rural communities. To assist rural land owners to monitor fuel purchases and usage, a Fuel Storage Template (please place hyperlink to the link on the side bar) has been developed and available to print for your convenience. If you believe you have been a victim of fuel theft, please contact your local Rural Crime Investigator (please place a hyperlink to the link on the side bar).
Please click on the links below for further information.
Prevention of Cruelty to Animals
The RSPCA, Animal Welfare League NSW and NSW Police Force are authorised officers under the Prevention of Cruelty to Animal Act, 1979 (POCTA).

All three agencies are committed to working together to ensure animal welfare standards are protected, and all allegations of cruelty and neglect are thoroughly and professionally investigated.
Operation Trident - Say no to black market oysters.
The NSW Police Force is supporting a multi-agency operation, Operation Trident, with the Department of Primary Industries and the NSW Food Authority, in an effort to jointly detect and investigate the illegal harvesting of oysters.
Oyster theft is a serious crime. Black market oysters can be unsafe to eat. Don't take the risk. Only buy oysters from a reputable supplier.