Sexuality and Gender Diversity. Working with lesbian, gay, bisexual, transgender and intersex people
Safety tips during the Mardi Gras Season
Sydney is a welcoming and friendly city however it is important to take a few measures in order to keep yourselves and your friends safe. Always seek help if you are feeling unsafe or unsure of your surroundings. There are a number of personal safety tips and measures you can take to stay safe whilst walking the streets or travelling on trains and buses. There are also things you can do to keep safe during and after major events such as the Mardi Gras Parade. If you do become a victim of violence, please seek assistance and report to the police.
Tell someone where you are going and who you are with.
Walk and travel in groups of people. Stick to major routes and roads – don't take short cuts; use footpaths that are well lit and not closed in by bushes and obstacles; make sure you check both directions before stepping off the footpath.
Keep your valuables out of sight or where you can see and reach them, especially mobile phones and wallets.
If you are intoxicated when you leave a venue, take care on the footpath and roads and watch out for each other.
Change direction if you think you are being followed and seek a safe place.
When on trains, travel in the guard's compartment identified by a blue light or in carriages with groups of people who could assist if needed.
Arrive at the train station as close as possible to the train departure time and stand where the station is well lit.
If you are walking back to your car, keep your keys in your hand as you approach your car in readiness.
Arrive to an event in a group or arrange to meet at a designated place and stay close to your group to ensure you are not alone for long periods and reduces the appearance of vulnerability – offenders target people who appear vulnerable.
Act with confidence, be clear and definite in your responses to any inappropriate suggestions. Most offenders hope to avoid confrontation or being caught and choose targets that they perceive are vulnerable.
Should you need to contact the police, visit the Contact Us page or download the Emergency+ App for IOS and Android devices.
The NSW Police Force works in partnership with community organisations and government agencies on programs and events to support safety within the lesbian, gay, bisexual, transgender and intersex (LGBTI) communities.
All police can respond to crime and it is important to report a matter as soon as possible. However, should you wish to speak to an officer with specific expertise or training, the following specialist roles may be of assistance:
The GLLO Program – officers based in many Local Area Commands across the state who are trained in lesbian, gay, bisexual, transgender and intersex issues and can offer follow-up support for victims of crime. Please note, not all police stations have a GLLO. Please report crime as soon as possible to any police officer. You can ask for a GLLO to contact you after you have reported a crime.
School Liaison Police and Youth Liaison Officers across NSW can assist with a range of youth issues including bullying and harrasment, education on these issues and support for victims.
Domestic Violence Liaison Officers receive training on LGBTI experiences of domestic and family violence and can offer follow-up support if you are a victim of such crime.
Note: If you would like to know who your closest GLLO is, contact your local police station and ask if they have a GLLO. GLLO stands for Gay and Lesbian Liaison Officer but these officers also liaise with bisexual, transgender, intersex people and anyone identifying as sex, sexuality or gender diverse or questioning their identity.
Some specific initiatives are outlined below, however for further information contact the Senior Programs Officer, Sexuality and Gender Diversity on 02 9768 0739 or 02 9285 3678.
25 Years & GLLO-ing
In 2015 the NSW Police Force will be celebrating the 25th Anniversary of the GLLO Program. 25 years and GLLO-ing is a colourful display of history, featuring highlights over the 25 years.
The history of Gay and Lesbian Liaison Officers – GLLOs – is explored and displayed highlighting milestone events and achievements. The oldest program of its kind in Australia, GLLOs have served the LGBTI communities for 25 years. Profiles of some of our longest serving GLLOs and our newest additions are complemented by colourful photographs of GLLO events during this period.
To commemorate 100 years of women in policing in NSW we also pay special tribute to our female GLLOs and allies who have helped to create a supportive and inclusive environment for LGBTI officers, staff and the community members we serve.
You can view the display in the Sydney Police Centre forecourt for the duration of the 2015 Mardi Gras festival. A mobile version will also be displayed at key events throughout the year.
Bring violence out of the closet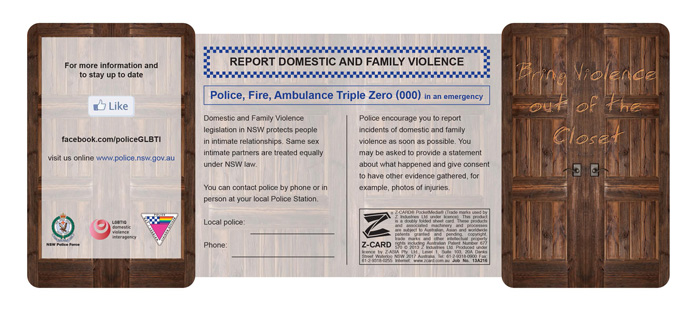 This information resource was produced to assist members of sexuality and gender diverse communities report domestic and family violence to the police. This compact z card provides community members with an outline of what to expect should they report domestic or family violence to the police. It clarifies key roles within the police and offers a number of external referrals for additional support.
Copies of this card are available through Domestic Violence Liaison Officers at many Local Area Commands.
MARDI GRAS
The police have participated in Sydney's Gay and Lesbian Mardi Gras since 1996. Each year the police enter a marching contingent into the famous Gay and Lesbian Mardi Gras Parade, accompanied by the NSW Police Band. Many participants are GLLOs or officers who undertake GLLO duties, supporting inclusive workplace practice and diversity within the community.
The NSW Police Force has participated in Sydney's Gay and Lesbian Mardi Gras since 1996.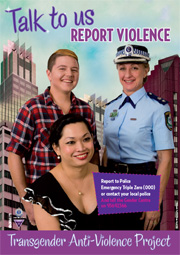 The NSW Police Force Policy on Sexuality and Gender Diversity 2011-2014 makes a commitment to working productively with gay, lesbian, bisexual, transgender and intersex communities to prevent and reduce crime and the fear of crime.
Work has commenced to review and renew this policy commitment for the 2015-2018 period.
The NSW Police Force is committed to the lesbian, gay, bisexual, transgender and intersex communities by:
Encouraging and supporting these communities in reporting incidents of violence, crime and anti-social behaviour towards or involving members of the community;
Ensuring the provision of high quality, professional policing services;
Building and maintaining effective partnerships;
Ensuring a supportive workplace for lesbian, gay, bisexual, transgender and intersex employees and those performing gay and lesbian liaison duties.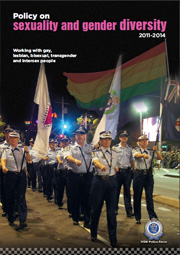 This is an initiative to encourage members of the transgender community to report violence to the police. Victims of crime can also report to The Gender Centre through the TAVP and request advocacy to assist them to report to the police.
Extra Material