Sexuality and Gender Diversity. Working with gay, lesbian, bisexual, transgender and intersex people
The NSW Police Force works in partnership with community organisations and government agencies on programs and events to support safety within the gay, lesbian, bisexual, transgender and intersex communities. Some of these initiatives are outlined below, however for further information contact the Senior Programs Officer , GLBTI on 02 9768 0739.
Bring violence out of the closet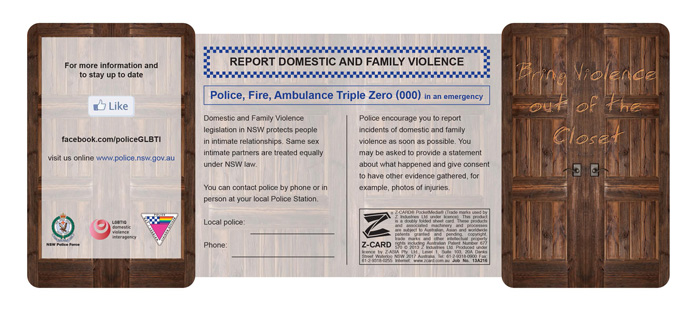 A new information resource has been produced to assist members of sexuality and gender diverse communities report domestic and family violence to the police. This compact z card provides community members with an outline of what to expect should they report domestic or family violence to the police. It clarifies key roles within the police and offers a number of external referrals for additional support.
MARDI GRAS 2013 – 35TH ANNIVERSARY
"Bring Violence out of the Closet" is the theme of the NSW Police Gay and Lesbian Liaison Officer (GLLO) marching contingent in the 35th Mardi Gras Parade – Generations of Love. This year, our message to the community is to seek help in relation to domestic and family violence. Domestic violence in any community is of great concern to the police and we want to encourage people to come forward and report.
The NSW Police Force has participated in Sydney's Gay and Lesbian Mardi Gras since 1996.



New Family and Domestic Violence Survey

The NSW Police Force is a member of an important interagency of service providers working in the area of family and domestic violence within lesbian, gay, bisexual, transgender, intersex and queer (LGBTIQ) communities. A survey, designed and conducted by this interagency, is currently underway to gather information about people's experiences of, and attitudes towards, LGBTIQ partner abuse.

Information gained as a result of this survey will assist a range of service providers, including police, to respond to family and domestic violence experienced by these communities. It will build on information gained 6 years ago when the first survey of its kind produced the "Fair's Fair" report which suggested significant levels of violence and abuse. Importantly, the current survey is inclusive of people of diverse sex and gender with specific questions for transgender and intersex people who are experiencing domestic violence.

To complete the survey, follow the link below.
http://www.anothercloset.com.au/the-2nd-nsw-survey-of-lgbtiq-p/

The NSW Police Force has released its third policy in this area: Sexuality and Gender Diversity 2011-2014. Working with gay, lesbian, bisexual, transgender and intersex people. Whilst reaffirming its commitment to working productively with gay and lesbian communities, the policy formalises a commitment to working with bisexual, transgender and intersex people to prevent and reduce crime and the fear of crime.

The NSW Police Force is committed to the gay, lesbian, bisexual, transgender and intersex communities by:

Encouraging and supporting these communities in reporting incidents of violence, crime and anti-social behaviour towards or involving members of the community;
Ensuring the provision of high quality, professional policing services;
Building and maintaining effective partnerships;
Ensuring a supportive workplace for gay, lesbian, bisexual, transgender and intersex employees and those performing gay and lesbian liaison duties.

This is a new initiative to encourage members of the transgender community to report violence to the police. Posters and advertisements, particularly in metropolitan Sydney, will invite victims of crime to talk to the police.

The Mardi Gras Festival

The NSW Police Force has participated in Sydney's Gay and Lesbian Mardi Gras since 1996.

Police Gay and Lesbian Liaison Officers (GLLOs) participate in a range of events including Fair Day in Victoria Park and the Mardi Gras Parade in Darlinghurst.

During these events, information in posters, postcards, fact sheets, stickers and related promotional material are distributed to build trust and confidence in policing services and encourage greater reporting of incidents of abuse and violence.

The NSW Police Band also takes part in the events.

This year the theme is 'reporting all violence to the police' highlighting a key priority for the NSW Police Force to increase the reporting of crime.

This theme is reflected in reporting campaigns that the NSW Police Force is conducting in partnership with ACON - the key gay and lesbian community organisation in NSW and The Gender Centre – the key advocacy and support service for transgender people in NSW, and other services concerned with violence against GLBTI communities.

NSW Government Policy on Preventing Violence Against Gay, Lesbian, Bisexual and Transgender People

The NSW Police Force is now a key partner in a whole of government Strategic Framework 2007 - 2012 Working Together: Preventing violence against gay, lesbian, bisexual and transgender people - www.safetypartnership.nsw.gov.au

The NSW Police Force policy on gay, lesbian, bisexual and transgender issues has been revised and updated in line with the priorities listed in this Strategic Framework document and the State Plan. This draft document is currently being finalised following extensive consultation and will be released later this year.

Extra Material