Drugs & Crime Stoppers
The NSW Police Force Drug Crime Reporting communication campaign aims to encourage people to call Crime Stoppers with any drug crime information, however small, as it may be the missing piece that is needed to solve a crime.
Our new Drug Crime Reporting Campaign, urges people to report drug-related crime in their suburb. You don't have to put up with illegal drugs being made or sold in your community. You have the power to help police end these crimes.
Crime Stoppers provides an anonymous and confidential channel for people to report drug crime to NSW Police Force and, as the results show, these calls are an important source of information to assist police during investigations.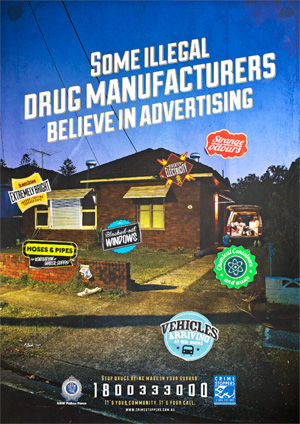 Illegal Drug House - Poster (PDF)
Seven telltale indicators of drug manufacturing
Strange odours emanating from the property
Diverted electricity
Chemical containers and waste
Blacked out windows
Hoses and pipes in strange places
Blinds down, with extremely bright indoor lighting radiating through gaps
Vehicles arriving at odd hours
Police urge anyone with information about suspicious properties to call Crime Stoppers on 1800 333 000 or use the
Crime Stoppers online reporting page
. Information you provide will be treated in the strictest of confidence. We remind people they should not report crime information via our Facebook and Twitter pages
Public Perception
Since 1999, NSW Police Force has commissioned annual market research to assess the public attitudes towards police, drug enforcement and reporting drug related crime. This has greatly assisted police in dealing with community concerns regarding drug crime issues.
Interestingly, this research has revealed misconceptions about how police act on the information provided and an overall feeling that "my little piece of information is not very useful."
Remember, all information is important, no matter how small. Police process all information once it is received. Sometimes that is needed is that final piece of evidence to make an arrest.
Crime Stoppers
Crime Stoppers is available 24 hours, 365 days per year to take calls about all types of crimes, including drugs. This increases the likelihood of identifying offenders and ultimately, leads to more arrests.
Call Crime Stoppers 1800 333 000.
In an emergency, call Triple Zero (000).