Drugs & Crime Stoppers
Factsheet: Protect yourself against 'ice'
The NSW Police Force Drug Crime Reporting communication campaigns aim to encourage people to call Crime Stoppers with any drug crime information, however small, as it may be the missing piece that is needed to solve a crime.
What is 'ice'?
Methylamphetamine is a strong stimulant drug. The drug comes as crystals, powder, wet paste and sometimes pills. 'Ice' and 'crystal' are names for methylamphetamine in its crystalline form. 'Speed', 'go-ee', 'whiz' and 'meth' are other names for methylamphetamine.All forms of methylamphetamine are illegal.
What does it do?
Methylamphetamine speeds up the function of the brain and central nervous system.
Effects may include:
feeling alert and excited
feeling confident and talkative
increased blood pressure
anxiety and restlessness
What are the harms?
Methylamphetamine is a harmful drug, regardless of which form it comes in and how it is used. Increasing dose size, purity or frequency can increase the risk of harm. 'Ice' is generally more pure than other forms of the drug so the harms from using it are also more severe. People have been known to have serious mental and physical problems after using a lot of methylamphetamine.
Methylamphetamine-related hospital presentations have increased, with the most common presenting concerns relating to mental health issues.
Harms may include
fast or irregular heartbeat and chest pains
anxiety or aggression
drug dependence: regular users can experience symptoms such as depression, sleep difficulties and cravings if they try to stop using methylamphetamine
psychosis: a serious psychological problem where people hear voices, imagine things or fear that others want to hurt them
What is NSW Police Force doing about 'ice'?
Detections of methylamphetamine (and especially 'ice') by the NSW Police Force have increased over the past few years.
As part of our response, the NSW Police Force and Crime Stoppers have teamed up to launch a campaign on 3 June 2015 to encourage people to report suspected 'ice' crime if they see it.
NSW Police Force also addresses methylamphetamine by:
working with other agencies - to strategically and holistically address drug problems through harm minimisation (incorporating supply reduction, demand reduction and harm reduction strategies)
targeting drug crime - to reduce drug supply
referring users to treatment - to reduce demand for drugs
conducting RDT - to reduce harm on roads
educating and supporting communities - to find local solutions to local problems
training and supporting police - to keep themselves, offenders and the community safe when they deal with this drug
Where can I go for help and information about 'ice'?
For more information contact the Durg & Alcohol Information Service (ADIS) on 1800 422 599 or (09) 9361 8000.
Visit www.yourroom.com.au for information about a wide range of drugs and how they can affect people, side effects, withdrawal, and how to get help for yourself or for anyone else who needs it.
Effective treatments are available. Seeking help early enables harm to be minimised.
If you or someone you know consumes a drug and has a bad reaction, you should immediately call "000" emergency help line.
How do I report drug crime?
If you have information about illegal drugs being sold, you can report it to Police Crime Stoppers. You can remain anonymous and your information will be dealt with confidentially.
You can provide information to Crime Stoppers by phone on 1800 333 000. Alternatively, you can submit an online information form.
Past Campaigns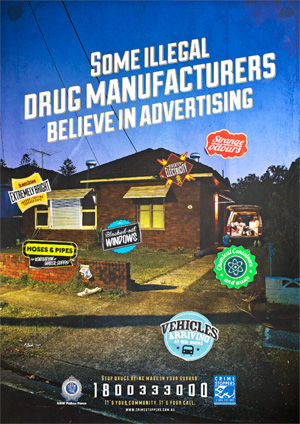 Illegal Drug House - Poster (PDF)
Seven telltale indicators of drug manufacturing
Strange odours emanating from the property
Diverted electricity
Chemical containers and waste
Blacked out windows
Hoses and pipes in strange places
Blinds down, with extremely bright indoor lighting radiating through gaps
Vehicles arriving at odd hours

Police urge anyone with information about suspicious properties to call Crime Stoppers on 1800 333 000 or use theCrime Stoppers online reporting page. Information you provide will be treated in the strictest of confidence. We remind people they should not report crime information via our Facebook and Twitter pages
Public Perception
Since 1999, NSW Police Force has commissioned annual market research to assess the public attitudes towards police, drug enforcement and reporting drug related crime. This has greatly assisted police in dealing with community concerns regarding drug crime issues.
Interestingly, this research has revealed misconceptions about how police act on the information provided and an overall feeling that "my little piece of information is not very useful."
Remember, all information is important, no matter how small. Police process all information once it is received. Sometimes that is needed is that final piece of evidence to make an arrest.
Crime Stoppers
Crime Stoppers is available 24 hours, 365 days per year to take calls about all types of crimes, including drugs. This increases the likelihood of identifying offenders and ultimately, leads to more arrests.
Call Crime Stoppers 1800 333 000.
In an emergency, call Triple Zero (000).