Domestic & Family Violence
Exit this site now
Exit this site now
Domestic Violence - No Innocent Bystanders
Domestic and family violence is a crime that takes many forms including emotional and psychological abuse, intimidation, harassment, stalking, physical and sexual assault, and can include animal abuse targeting pets, and damaging personal or joint property.
It is the most underreported of crimes because the perpetrator knows the victim intimately through a long-term, close or developing relationship. The perpetrator relies on developing, during the early stages, a strong bond through friendship, love, trust and loyalty to create a high degree of co-dependence. The underlying behavioural traits of power and control are then employed as tactics to commit the crime.
The more times a perpetrator commits the crime, the greater the likelihood the affected partner becomes vulnerable to further abuse and violence. This can frequently result in the affected person developing feelings of fear, guilt, anxiety, low self-esteem, isolation and feeling 'trapped' in the relationship. This often results in a 'Cycle of Violence'.
Children living in a relationship with abusive behaviour are considered to be at risk of harm, either directly by being abused or indirectly by witnessing the abuse of the parent or carer. Children who live in families where domestic and family violence occurs are at a greater risk of being sexually abused. The continuation of abuse and even exposure to such abuse could result in serious problems impacting on the child's personal, health, education and social development.
"A life free of violence is a basic human right" (PDF, 1.7MB)
The NSW Police Force will respond to all reports of domestic and family violence and pursue the perpetrators to hold them accountable for their 'criminal behaviour' under NSW law, by placing them before the courts.
Code of Practice for the NSW Police Force Response to Domestic and Family Violence (PDF)
For further Domestic & Family Violence information, please click on the left menu.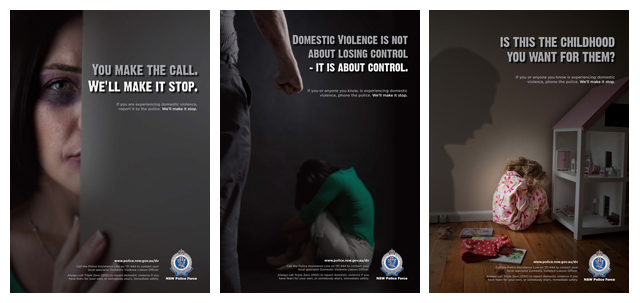 View the posters
You make the call. We'll make it stop. (JPG)
Domestic violence is not about losing control - it is about control. (JPG)
Is this the childhood you want for them? (JPG)
Watch the video
<>
Domestic & Family Violence Fact Sheet
Policing Strategy