Alcohol Information & Resources
Alcohol Information and Resources
There have been a number of strategies and campaigns set up by various agencies with a view of reducing alcohol-related harms and maintaining a safer drinking culture in Australia. For further information, refer to the following links.

Agencies & Campaigns
http://www.alcohol.gov.au– provides information about related health issues and Australian government policy.
Alcohol and Drug Information Service (ADIS) NSW – operates 24 hours a day, 7 days a week to provide education, information, referral, crisis counselling and support. Call (02) 9361 8000 (Sydney metro) or 1800422599 (outside Sydney metro and interstate).
Your Room – provides drug and alcohol information and advice, campaigns and resources.
Aboriginal Health and Medical Research Council – provides links to Aboriginal community controlled health services across NSW.
Drug and Alcohol Multicultural Education Centre (DAMEC) – provides services for people from culturally and linguistically diverse communities.
Drug Info - run by the Australian Drug Foundation (ADF), the core purposes of the ADF are to prevent drug problems and reduce drug-related harms.
DrinkWise - not-for-profit organisation aiming to develop and maintain a safer drinking culture in Australia.
Drinking Nightmare - part of the National Binge Drinking Campaign, the main objective is to contribute to a reduction in harm associated with drinking to intoxication amongst young Australians.
Law Stuff - provides legal information to children and young people in Australia.
My Nite – provides information on safe parties and registering your party with the NSW Police Force online.
What are you doing to yourself? - a NSW Health responsible drinking campaign aimed at tackling the growing problem of binge or excessive drinking and anti-social behaviour among teenagers and young adults.
Parentline - supports and nurtures positive, caring relationships between parents, children, teenagers and the significant other people who are important to the well-being of families.
Kids Helpline – provides a free, 24 hour counselling service for young people aged 5 to 24 years. Counselling is offered via the website www.kidshelpline.com.au or call 1300 55 1800.
ReachOut – provides practical tools and support to help young people get through a range of issues
Your Choice – provides practical tools and information in relation to the consequences of binge drinking, especially for teenagers.
Australian Guidelines to Reduce Health Risks From Drinking Alcohol
The Australian Alcohol Guidelines (2009) recommend:
if you drink regularly, drink no more than two standard drinks each day
on a single occasion, drink no more than four standard drinks
young people under 18 years of age should not drink alcohol
the safest option for a pregnant or breastfeeding mother is not to drink alcohol.
NHMRC 'Australian Guidelines to reduce health risks from drinking alcohol' February 2009 Guidelines (PDF)
Australian Standard Drinks
The amount of alcohol in a can, bottle or glass of an alcoholic drink is often expressed in terms of a standard drink. A standard drink in Australia contains 10g of alcohol.
It is important to remember that alcohol is not always served as a standard drink. Pre-mixed spirits and free poured drinks often contain more than one standard drink.
For further information in relation to alcohol guidelines and the Australian standard drink, please visit the Australian Government National Health and Medical Research Council at https://www.nhmrc.gov.au/health-topics/alcohol-guidelines.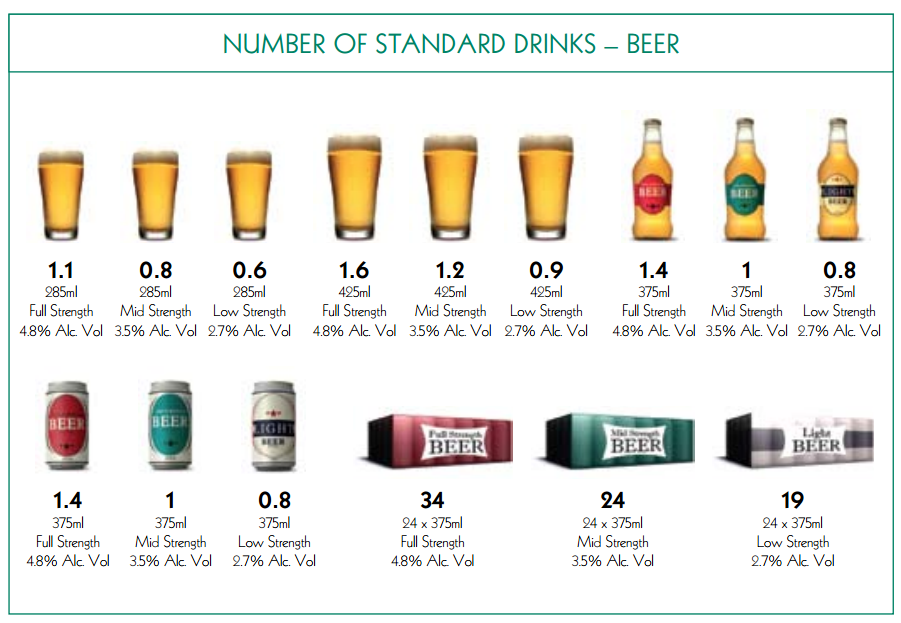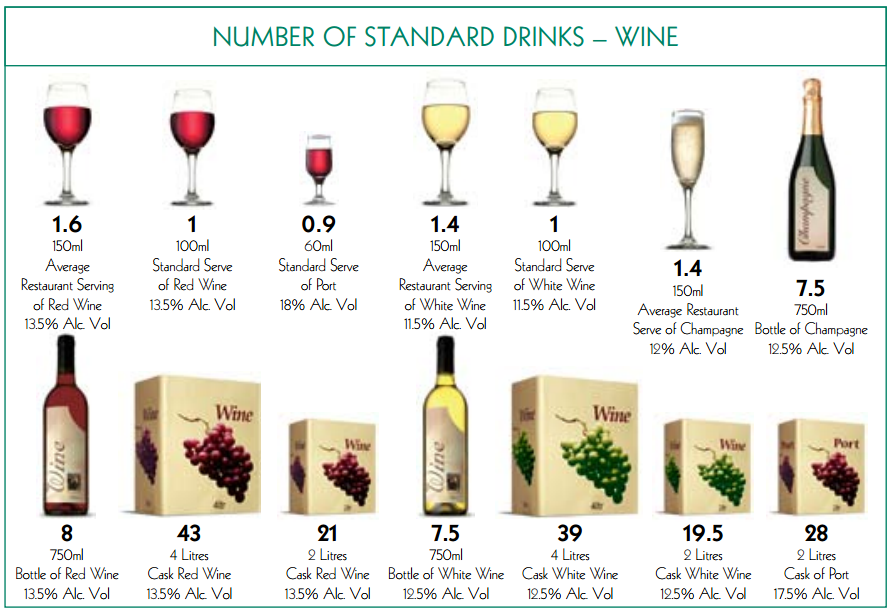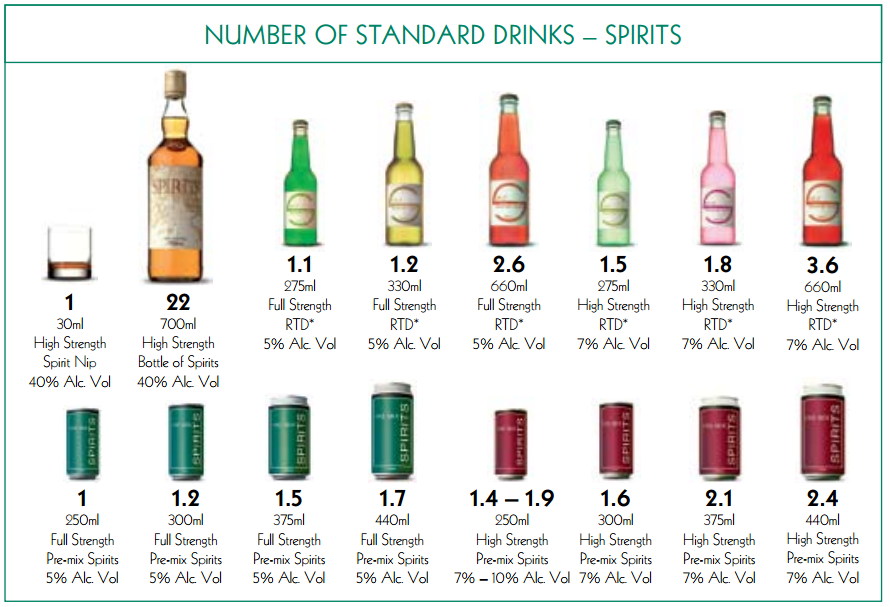 Sydney alcohol laws
New alcohol laws are now in force in the Sydney CBD Entertainment precinct. These laws are part of the NSW Government's crackdown on drug and alcohol-fuelled violence.
These new laws include:
Lock outs and last drinks: 1.30am lockouts and 3am last drinks at hotels, registered clubs, nightclubs and licenced karaoke bars. Small bars (maximum 60 people), most restaurants and tourism accommodation establishments are exempt. Venues currently licensed to stay open after 3am can do so without alcohol service.
Temporary bans: of 48 hours for troublemakers.
Takeaway alcohol sales: stop at 10pm for bottle shops, hotels and clubs. This law is NSW-wide.
Liquor licenses: two year freeze on approvals for new and existing licenses.
Revoking of Competency cards and disqualifications: (up to 12 months) for bar staff breaching responsible service of alcohol requirements.
Licensee fines: of up to $11,000 and/or imprisonment of up to 12 months, as well as strikes under the Government's Three Strikes disciplinary scheme for failure to comply with the new laws.
For more information in relation to these laws and the locations of the new Sydney CBD Entertainment precinct, please visit the New South Wales Government website at http://www.nsw.gov.au/newlaws.