NSW Police Dog Unit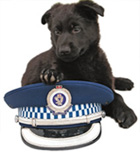 The NSW Police Dog Unit was formed in 1932 and provides a support service for all operational police in NSW. The Unit's aim is to provide specialist canine services such as general purpose, drug, firearms/explosive detection and human remains dogs. NSW Police Dogs are amongst the best trained in the world.
The Unit uses various breeds of dogs including German Shepherd, Labrador, Rottweiler, Malinois and is currently introducing English Springer Spaniels.
Visit NSW Police Dog Unit Facebook page
2013 Dog Unit Calendar
We're excited to announce the launch of our 2013 Calendar, featuring full colour photos of our very own dogs. The calendar aims to raise money for Police Legacy, a charity that provides emotional and financial support to the families of deceased police officers.
The calendar sells for $25 and can be purchased by emailing info@policelegacynsw.org.au. Be quick, though, as it's limited edition and expected to sell out quickly.
Canine-loving family and friends will be sure to cherish it!
If you need to contact the NSW Police Dog Unit please call the number listed below. If you need to report a crime or emergency, please click the Contact Us section of this site for more information. In an emergency dial Triple Zero (000).
Ph: 02 9541 9744
Fax: 02 9541 9712