Mounted Unit
The New South Wales Mounted Police Unit is the oldest continuous operational Mounted unit in the world.
The New South Wales Police Force is very proud of the Mounted Section and the historical element the section has combined with policing. The unit is an efficient support unit in operational duties, and an imposing and spectacular sight on all ceremonial and protocol engagements, promoting a valuable public relations image.
NSWMP train at Centennial Parklands - see more about their landscape through their website
The Mounted Unit is proud to announce that it has been invited to perform at the Queen's Diamond Jubilee Pageant in 2012. The performance will take place during the 150th anniversary of the NSW Police Force and is a testament to the unit's outstanding service to the community. Please see the video below in which Inspector Kirsten McFadden, Commander of the NSW Police Mounted Unit, speaks about this honour.
Read a copy of the video's transcript
Tours of the Mounted Police and Museum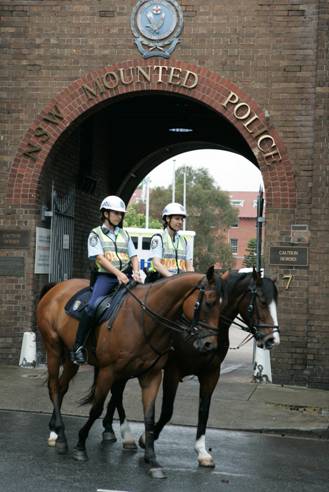 In 1995 the Mounted Police Museum was introduced to provide the visual display of the proud history of the unit. The Mounted Police conduct free tours of the section which include a walk through the museum located on site. The tours usually take 1 hour, although some maybe longer or shorter depending on the requirements of the group. You will be provided an overview of the history of the section and a look at the daily life and running of the stables. You may be able to watch a horse being exercised in the menage if there are officer riding horses at that particular time. You will meet and greet the troop horses personally and be informed of the training and requirements for both horses and police. Tour guides are more than happy to answer any questions you may have throughout the tour. Feel free to bring carrots to feed our horses if so desired.
Tours are conducted on Tuesdays at 10:00am and 11:00am. Bookings are essential and require a minimum number of 10 people and cannot exceed 30. Please book as far as possible in advance to avoid disappointment, as this is a very popular tour and we are usually booked out weeks or months in advance.
The stables are located at 7 Baptist Street Redfern. Please phone 02 93192154 for further information.