Specialist Operations & Corporate Services Non Local Area Command
A) Finalist: Sergeant Brian Kempster, Office of the General Counsel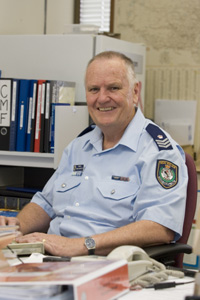 Sgt Kempster was sworn in as a probationary constable in 1971 and stationed at Daceyville Police Station in Sydney's eastern suburbs. Whenever I assist the public or my fellow police officers I feel as though I have achieved something important. I feel pride in my work because I know I have made a difference to someone seeking my help. A highlight of my career was receiving a Commissioner's Commendation for Bravery and the Queen's Commendation for Brave Conduct for my role in resolving a domestic siege in 1974. But I consider being supervisor of the Witness Liaison Unit over the last 21 years to be my greatest achievement. I am completely overwhelmed to be a finalist for this award. This has come as a complete surprise on the eve of my retirement.
View Brian's video profile (NSWPF YouTube Channel)


---
B) Finalist: Superintendent David Meurant, Operational Communications & Information Command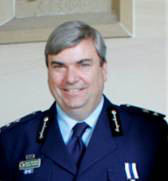 A/Supt Meurant graduated Dux of his Class in 1981 and received the Benefactor Award from WD&HO Wills. Wireless technology is a special interest of mine and I'm lucky to have been able to merge this interest with a career. I enjoy working with dedicated people who tirelessly support the provision of police communications for officer and community safety. Being awarded the Australian Police Medal was one of my most memorable moments.To be a good police officer, I believe it takes perseverance; communication skills such as negotiation, facilitation and listening and teamwork; and being able to work with a team to get the job done (this has been incredibly important with regard to the project work I have had responsibility for). I am very proud to be a finalist for this award and honoured to be among a group of talented people.


---
Winner
C) Finalist: A/Snr Sgt Kristy Walters, PoliceLink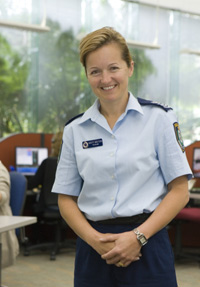 Snr Sgt Walters joined the NSWPF in 1993 and was first stationed at Hornsby and then Eastwood.
PoliceLink is an ever changing and rapidly expanding environment. For me and my team, it means we have the ability to influence the way we do business within the NSWPF. Coming to PoliceLink was a definite highlight and my recent trip to France where I worked on a joint operation between Crime Stoppers and Interpol. The highlight of this trip was working with law enforcement officers from around the world. I think a police officer should stand by their decisions, act as a role model for others and look for opportunities to best use their skills and knowledge. I'm very flattered and proud to be nominated for this award. I really love the role that I'm in, so this is a bonus.
View Kristy's video profile (NSWPF YouTube Channel)