Field Operations Local Area Command
Winner and NSW Rotary Police Officer of the Year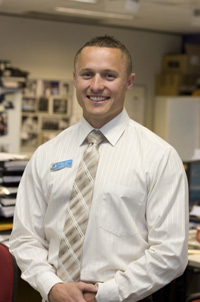 A) Finalist: Detective Senior Constable Jason Brooks, Cabramatta LAC
Det Snr Cst Jason Brooks attested from Goulburn Police Academy in August 2001 and was stationed at Cabramatta, where he remains today. I enjoy working with the people at Cabramatta. I've also been lucky to have worked with some skilled investigators. I enjoy the challenges of serious investigations that require a lot of effort; they tend to be more rewarding. And I like the team camaraderie that comes with being a police officer. My detective's designation in 2007 was one of my most memorable moments, along with winning the community vote for Police Officer of Year for Cabramatta and Fairfield. I believe a good police officer should have a never give up attitude, an eye for detail and an ability to interact with people, whether they be victims or offenders. Honoured to be a finalist for this award, yet very embarrassed.
View Jason's video profile (NSWPF YouTube Channel)
---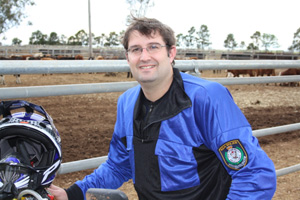 B) Finalist: Detective Senior Constable Ty Johnston, Orana LAC
Det Snr Cst Johnston attested in May 1997 and was first stationed at Enfield Police Station. In my command and capacity as a rural crime investigator I get to work along side some excellent police officers. Every day is different here and no two jobs are alike. In my position I get to see a lot of outback NSW and I love working with the rural community. A significant career moment is being appointed a detective in 2003. I think being a detective is the most valuable job in the NSWPF. I think to be a good police officer you need a vast range of attributes such as leadership, patience, enthusiasm and teamwork. You don't need to be perfect in all of them, but to know when and how to use your strengths and attributes is important. That is what I believe makes a good police officer. It is an honour to be selected as a finalist and to be acknowledged by the people I work with every day.
View Ty's video profile (NSWPF YouTube Channel)
---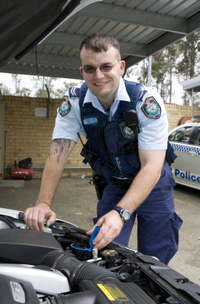 C) Finalist: Senior Constable Steven Wade, Penrith LAC
Snr Cst Wade joined the NSWPF in April 2004 and was initially stationed at St Marys Police Station. The NSWPF provides the opportunity of having a career. I love the ability that HWP gives me to work proactively in all facets of policing. In February 2009 I was run down twice - and my partner once, while on foot by an offender in a vehicle. We pursued him in our vehicle, which was later rammed at 60km/h. My partner and I were both taken to hospital after we made the arrest. This incident reminds me of the dangers of our job and how lucky I am to be alive. One of my greatest moments was when my police mates nominated my family for a Domestic Blitz make-over at our home. I get a lot satisfaction from my job. It's great to be recognised for my efforts and for my loyalty to the job.
View Steven's video profile (NSWPF YouTube Channel)