New Police Commissioner for NSW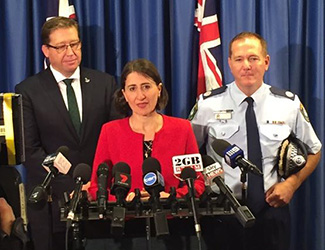 Michael Fuller APM has been announced as the new NSW Police Commissioner.
Mr Fuller has been a senior executive within the NSW Police Force since 2010 at the level of Assistant Commissioner.
He has held the position of Assistant Commissioner, Central Metropolitan Region since 2014, a role that has seen him lead policing across the breadth of the Greater Sydney metropolitan area.
Mr Fuller's 29-year career with the NSW Police Force commenced in 1987, when he was sworn in as a junior officer. Mr Fuller was promoted to the rank of Detective Sergeant in 2000, and then to the rank of Inspector in 2002. His early career was spent in general duties, criminal investigation, strike forces and major incidents.
In 2004, Mr Fuller was promoted to the rank of Superintendent, with roles commanding police across a variety of metropolitan and regional locations. This included a two-year posting as head of the State's largest Local Area Command, City of Sydney.
Following this, Mr Fuller was appointed as an Assistant Commissioner in 2010, spending two years as Commander of the Southern Region of NSW. He spent a further two years serving as Assistant Commissioner in the Professional Standards Command, setting benchmarks for performance, conduct and integrity across the Force.
Mr Fuller has led multi-agency emergency response operations to some of the State's worst fires, floods, protests and terrorist incidents and had a command role through some of Australia's highest profile events, including APEC, World Youth Day, and was Commander of Sydney's New Year's Eve celebrations. He is well aware of the new and unique threats we face as a community, and the diversity of issues we face across New South Wales.
Most recently, as the NSW Police Force's Corporate Spokesperson for Family and Domestic Violence, a position Mr Fuller has held since 2014, he has led full organisational reform of strategies to prevent and respond to domestic violence, and has significantly contributed to the whole of government efforts in this space.
Through the introduction of Domestic Violence High Risk Offender Teams, Suspect Target Management Plans, and the 'No Innocent Bystander' campaign, Mr Fuller has overseen programs that take the pressure off victims, and put offenders on notice that their crimes are not private, but matters of serious public concern.
Mr Fuller has also played a key role in reforms to criminal exhibits and police powers, and was the architect of the Region Enforcement Squad initiative to work across commands targeting mid-level metropolitan crime.
He has relieved extensively at Deputy Commissioner rank over the past six years.
Mr Fuller holds a Diploma in Management and was awarded the Australian Policing Medal in 2009 for distinguished service in policing.